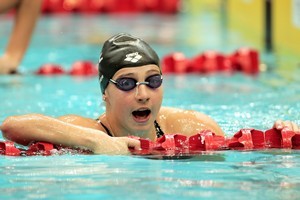 A ripple of New Zealand swimming medals at the Delhi Commonwealth Games has turned into a sizable wave, with Hayley Palmer, Glenn Snyders and Daniel Bell picking up three in four races.
Snyders won silver in the 50m breaststroke, Bell stormed the last 50m for silver in the men's 100m backstroke, and Palmer picked up a bronze in the 50m freestyle.
First out was Palmer, who smashed her own New Zealand record, recording 25.01 seconds in a race taken out by Australian Yolane Kukla in 24.86sec.
She was barely out of the pool when breaststroker Glenn Snyders took silver in the men's 50m, deadheating with Australian Brenton Rickard in 27.67sec.
Snyders lowered his own national record from 27.73sec as gold medallist South African Roland van der Burgh took gold in a Commonwealth Games record 27.18sec.
Bell followed with his silver, coming from outside the top three at the turn to chase home dominant Englishman Liam Tannock, who won in a Games record 53.59sec.
Bell clocked 54.43sec, charging past bronze medallist Ashley Delaney of Australia and Welshman Marco Loughran on the way to the wall.
When just pipped for bronze in the 50m backstroke earlier in the meeting, Bell had shrugged that off saying the 100m was his premier event, and he proved that point tonight.
Melissa Ingram, who this morning set a Commonwealth Games 200m backstroke record, swam .10sec slower in the final to finish seventh.
Aucklander Ingram, 25, was third at halfway but could not hold on at the business end as Australian Meagen Nay cut down Englishwoman Lizzie Simmonds in the last 50m.
New Zealand swimmers have now won four silvers and a bronze in Delhi.
- NZPA