Silver Ferns 47
England 41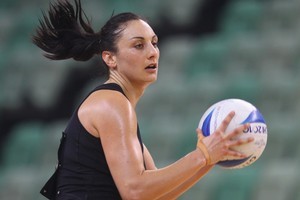 Three-quarters through New Zealand's toughest group game of the Commonwealth Games, there was a large green and gold elephant parked on the end of their bench.
England were 35-34 ahead and right in the contest. Defeat would have meant the Silver Ferns almost certainly facing world champions Australia in the semifinals.
Not at all part of the plan. But a run of goals at the start of that final period eased New Zealand clear and set up the win. It was an absorbing contest, if far too error-strewn to be a perfectionist's delight, and New Zealand will be the better for the game.
For much of it they played as befitted a side whose only opposition thus far had been lightweights Papua New Guinea and the Cook Islands. They were often ragged and the passing radar was on the blink.
England were 24-22 ahead at halftime and if New Zealand thought they would fold in the second half like a poorly-erected tent they badly misjudged a committed English team.
This was a big step up and the Silver Ferns eventually made the jump, but not without a decent stoush against a committed English team who defended stoutly and nagged away like a dog worrying a bone.
"We knew what to expect," wing defender Joline Henry said. "I just think it took us a little too long to get into our work. We made far too many soft errors."
The green-and-gold shadow hovering over the outcome was never mentioned, she added.
"Going into that last quarter there was a reality check, knowing we had to come out on top of the pool. Our expectations and pride were at stake."
The game wasn't without complications for New Zealand. Wing attack Temepara George, in her first outing of the Games and recovering from a middle ear infection, had a shocker and was gone at halftime.
Captain and goal defender Casey Williams has a dodgy patella tendon. Throw into the mix England possessing two shrewd, tough-minded defenders in Geva Mentor and Sonia Mkoloma, and shooters who were on their game until the final quarter, and it added up to just what New Zealand wanted.
"We needed to be tested and we'll have learnt a lot from that game and will take great heart from the way we executed in that last 15," coach Ruth Aitken said.
With goal attack Maria Tutaia goaling an ordinary 16 of 23 attempts, it was as well Irene van Dyk was on the job, nailing 31 of 34 shots. Henry was solid and goal keep Katrina Grant ruggedly effective but this was a game which could have gone badly wrong.
The New Zealand Olympic Committee big wigs were in the crowd, including New Zealand's Governor-General Sir Anand Satyanand, clapping and chanting like, well, a passionate New Zealander.
"We're absolutely gutted," England's spirited wing defence Jade Clarke said.