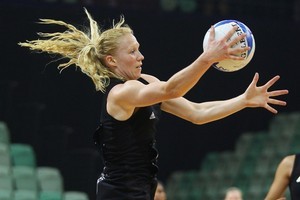 Defending champions New Zealand were given a scare today before beating England 47-41 in the Commonwealth Games netball tournament in New Delhi.
The Silver ferns trailed at both halftime time and three-quarter time and need to dig in over the final 15 minutes to secure victory.
The result keeps them on course for a showdown with world champions Australia in the final.
It was the first significant encounter of the games for New Zealand after their easy victories over Papua New Guinea and the Cook Islands.
Vice-captain Temepara George, who had been battling an ear infecftion, had her first start of the tournament and she struggled at times to find her passing range.
George was substituted at halftime by Liana Barrett-Chase.
After an even start, the Silver Ferns got on a roll with six unanswered goals and appeared to be on the way to establishing dominance.
However, their play started to become ragged and England profited to close the gap to 11-10 after the first quarter.
The Silver Ferns continued to struggle with their rhythm and the English, with their midcourt of Jade Clarke, Sara Bayman and Tamsin Greenway working well and shooter Pamela Cookey energetic, hit the front with a six-goal run of their own.
England went into the main break 24-21 ahead, providing the New Zealand supporters, who included Governor-General Sir Anand Satyanand, in the sparse crowd at the Thyagaraj Sports Complex plenty of concern.
With centre Laura Langman prominent, New Zealand's consistency of performance improved with their revamped midcourt, but their opponents refused to lie down and remained a goal ahead with 15 minutes to play.
A spurt early in final court set them on the way to eventual victory.
The Silver Ferns' remaining pool matches are against South Africa and Barbados.
- NZPA