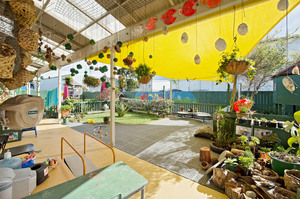 A popular childcare centre in the Airport Oaks business area is up for sale for the first time since it was established more than a decade ago.
The Bright Sparks Childcare property at 77 Aintree Ave was extended in 2008 to cater for demand and comprises a 953 sq m building on a 3000 sq m site. It is up for sale as part of Bayleys' latest Total Property portfolio through Mark and Rachael Pittaway, of Bayleys Auckland, with tenders closing on September 27 unless sold prior to that date.
Rachael Pittaway says the centre is the largest in the area and very well patronised. It is one of two Bright Sparks Childcare centres in Auckland with the other in Henderson. "The property was established as a childcare centre in 2000 and Bright Sparks has been in operation for more than six years. It has a high profile in the expanding Airport Oaks business precinct, where it is in an ideal location for parents to drop their children off on the way to work," she says.
Pittaway says it is an extremely well-run centre at the top end of the childcare market. The property is divided into five indoor/outdoor areas according to age groups. It has extensive dining, kitchen, sleeping and playing areas.
Bright Sparks has eight years left to run on a 12-year lease and the property is producing net annual rental income of $254,332, with two-yearly rent reviews. It also has two six-year rights of renewal and the final expiry date of the lease could be 2032 if these are exercised.
The childcare centre was originally designed for 84 children but due to increased demand the building was extended in 2008 and a new 12-year lease was entered into. The modern, purpose-built, two storey building is now licensed for 134 children.
The property has dual driveways leading to car parks directly in front of the building with a larger parking area at the rear. The building is in an L shape in the centre of the freehold site, with the north-west wing enclosing the large playground.
The 795 sq m ground floor is occupied by the reception area, five classrooms, kitchen and bathroom facilities and the 158 sq m first floor is used as a staff room, kitchenette and store room.
Mark Pittaway says there are few investment properties in the area with 12-year leases. Childcare centres are generally sought after investments because, in addition to their long leases, they are usually purpose built with very specific fitouts, making it less likely existing businesses will relocate. "It is also becoming increasingly difficult to find suitable locations and obtain the necessary consents to start up a childcare centre and this is a high quality facility." The Airport Oaks precinct is popular with investors because it is close to the airport and has modern buildings.