British comedy baron Richard Curtis says his latest rom-com is his last as director. He tells Des Sampson why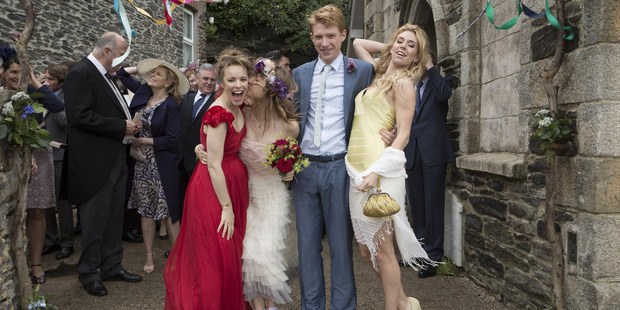 For 30 years, New Zealand-born, English-bred writer/ director Richard Curtis has been responsible for some of the most memorable and beloved moments in British television and film, from his groundbreaking skits on Not the Nine O'Clock News and Blackadder to his most celebrated creations, Four Weddings and a Funeral, Notting Hill and Love Actually.
However, with his last film, The Boat That Rocked - the tale of a pirate radio station broadcasting from a ship in the middle of the North Sea - Curtis' Midas touch deserted him. It was a critical and commercial disaster. Consequently, with his newest offering, About Time, Curtis has returned to the safety of what he knows and does best: romantic comedy.
Like Four Weddings, Notting Hill and Love Actually, About Time is a sentimental, rose-tinted take on life - and love - which follows Curtis' well-versed formula of boy - Tim Lake, played by Domhnall Gleeson - meets girl, Mary (Rachel McAdams), falling in love, and inevitably messing things up.
But although the course of true love doesn't run smooth, in About Time Curtis adds a twist: Tim, like all the male members of his family, can time-travel.
It allows Tim to return to his past to right any wrongs and ensure his future with Mary turns out the way he wants it to - with humorous and disastrous consequences.
"It's that whole butterfly effect, isn't it," surmises McAdams, reflecting on the perils of time travel she's experienced before on screen in The Time Traveller's Wife. "What if you go back and fix one thing and then you ruin everything else? That's why I wouldn't want to tamper too much with things. I've watched too many movies to know what happens if you do."
Like McAdams, Curtis admits he wouldn't want to meddle with the past, or make sweeping changes to his life. Instead, like his protagonist Tim, he'd settle for righting any wrongs, living for the moment and worrying less about the past or future.
"When you look back over your life there are times, like in your 20s, where you worry so much about things that you miss out on the magic of the moment. So, I think the truth is I'd be happy to go back to any part of my life and just do it again, without worrying about everything," he says.
Bill Nighy, who portrays Tim's dad in About Time, says: "I think everyone should worry less and just enjoy the moment, rather than have it qualified by yesterday, or threatened by tomorrow.
"It's hard to pull off, although I'm getting better at it as I get older because I now realise life's short and should be lived to the full."
Curtis concurs.
"That's the crux of the story - enjoying every moment in life," he says. "I thought; 'How can you write a movie about such a simple thing?' So I actually came up with the time travel idea as the most complicated way of getting to the simplest thing. Then I thought; 'Oh, I could write a whole lot of jokes about going back to the past, and particularly in regard to romance."
Consequently, although About Time is about love, relationships and marriage - and the comedic moments arising from those tangled exchanges - it also has more serious, sombre undercurrents about life, death and family ties.
"I wanted this to be a gentle, funny movie about not only love but also about family," says Curtis. "The initial inspiration was the idea of going back and spending time with members of your family, while they're still around. That was an important element, and I think that's the difference between this film and Notting Hill or Four Weddings, which were more about friendship and love."
Curtis admits that he couldn't have written a film such as About Time 20 years ago as it's a reflection of the life he's led and the changes that have taken place in that time, including becoming a dad, suffering heartache and experiencing the loss of his parents, who died in recent years.
"I've lost three out of the six members of my family in the last five years and that's obviously had a profound effect on me," he says. "It was very much on my mind when I came to write this, which is why it's about families, life and death, rather than just about romance and time travel."
Writing a film with such profound themes has clearly had an impact on Curtis, which partly explains his shock announcement that About Time will be the last film he directs.
"I'm trying to pay attention to the message in About Time, which is about enjoying every moment of your life as much as you can," he reveals, pensively. "Directing movies is far too intense. So, if I'm going to spend a thousand days on something, I'd rather spend it with my family, doing things I want to do.
"You know, the other good thing about announcing I'm not going to direct any more is that it's nice to go out on a high, by writing a film that's as good as you can make it, about the things that matter to you," he concludes, cheerfully. "In terms of what I feel about life, I do think that this film, more than any other I've written, does that because it's about family and love. It's also the one I most want my children to see and think 'what it's all about'."
Lowdown
Who: Richard Curtis, writer-director of crowd-pleasing big-screen comedies including Four Weddings and a Funeral, Notting Hill and Love, Actually
What: About Time, starring Rachel McAdams and Domhnall Gleeson
When: Previews this weekend. Opens Thursday