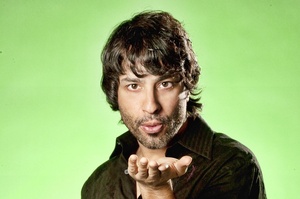 If you've managed to get yourself a golden ticket to an upcoming Flight of the Conchords show then you'll be pleased to know the comedy quotient has just been increased with the announcement that Arj Barker (aka Dave) will be joining the duo on stage in June and July.
While he won't be playing Dave, that nutty headbanded guy who gave the pair all sorts of peculiar advice during the TV series (like how to make a weapon from a watering can tied to a hose), Barker will be bringing the laughs with his own stand-up routine, in an effort to conquer the world with humour.
"I live between Australia and California, because it's sort of like a military strategy - you should have a base in both hemispheres so you can launch comedy attacks on both populations. I'm not into the military or anything though, don't get me wrong. Not like my character on FOTC. I'm actually a total pacifist, kind of a hippy really. I'm pretty much new age, spiritual, pro-agreements, Eckhart Tolle, all that stuff."
Here during last year's comedy festival to host the annual comedy gala, and present his stand-up show Eleven, this time around Barker will be spending a mere 20 minutes on stage at each show, so he's treating the tour like a working holiday, and a reunion of sorts with his mates.
He'll be trying out some new material in preparation for a comprehensive world tour in 2013, and will have a new DVD entitled Joy Harvest to flog too.
"I've got some just wonderfully personal stuff I want to use, I'm really opening up now. After all these years of doing gags, I'm starting to just let people see me, and see how I feel. You might say 'but we don't even know you', but that's the whole point. That's a problem, I've got to fix that."
Having toured extensively with the Conchords overseas in the past, he's looking forward to feeling the love from the many thousand avid fans, and joining Bret and Jemaine on stage.
"One of the highlights of the tour is going to be when they play a couple of songs that I was lucky enough to write a verse for. When they do those live, I usually come out and do my bit, and as fun as doing stand-up is, that might be my favourite part. I'm in a real concert with my friends, making music for eight seconds, and that might be the funniest thing ever."
* As TimeOut went to press, the tour's promoters said tickets are still available for the Friday June 29 concert at Vector Arena with limited numbers to the original Sunday July 1 show.
-TimeOut