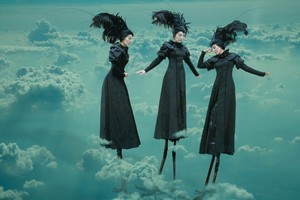 Sitting in the tranquil Eden Garden surrounded by verdant native and exotic plants, Morag Magnolia Brownlie can't help but watch the birds which call the urban oasis home.
Feathered friends have become a big part of life for the documentary film-maker, choreographer, costume designer and all-round creative.
Their flamboyant, often bizarre courtship rituals are at the heart of her cabaret burlesque comedy Birds of Paradise.
It's a lavish two-hour spectacle which uses birds and their behaviour to illuminate the strange things sexual attraction and love can do to all of us.
Brownlie has said it is a show about birds and their feathers, but more specifically about paradise.
"The best place to find paradise is in the spaces and moments between two birds - or humans - humming with chemistry and love. Birds of Paradise plays with the rituals that can bring them together.
"It's a teasing and witty comedy about sexual chemistry, but it has a deeper meaning beneath its light and playful exterior, so you could say it has multiple layers of themes.
"Romance and wooing is like a lost art and this is reflected in the plight of the endangered species and also the loss of culture from our colonial influence.
"The show is about stripping back the layers and also about Kiwis shedding the black Victorian colonial suppression of sexuality and indigenous culture. Audiences can respond to whatever layer they like."
Brownlie has clothed her flock of performers - herself, jazz singer Caitlin Smith, Henry Taripo, Mike Holland, Georgie Goater and dancers the Cuban Groove - in an elaborate range of designs by the likes of Trelise Cooper, Brooke Tyson, World and Missey Milner.
A former director and choreographer of the World of Wearable Arts, she has taken the garments and used them as the basis for fantastical bird costumes: pukekoe - "hyper-sexualised, bisexual birds that are prolific breeders", tui, white herons and Rarotongan love birds.
The production has a defined story. A Victorian ornithologist is thrown by a time warp into the future where she meets Sir David Attenborough, the broadcaster and naturalist whose wildlife television shows have set the benchmark for natural history documentaries.
She is at once spellbound and the game of love begins. As the performers morph into various birds, a process of transformation takes place set to an original soundtrack by Sean Donnelly (SJD).
Brownlie admits she was inspired by Attenborough's momentous Life series of documentaries, which includes The Life of Birds, but says bird themes have flown through much of her work. Audience members are invited to "dress with style" and adorn themselves with a birdy fascinator hat or feathery cravat.
Performance
What: Birds of Paradise
Where and when: Tapac, Western Springs, December 8-18