He can preach and honk but TV3 presenter certainly delivers.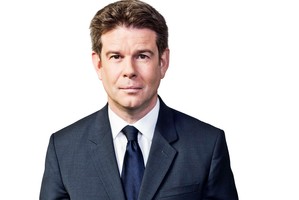 I'm just back from a stay with my elderly mother who shouted, "It's all rubbish" every time a television was turned on. And please bear in mind this is the same woman who tells me not to be so mean about the TV shows I review.
"Find something nice to say or don't say anything at all," she instructs me, but of course I take no notice. How could I?
There are people other than my mother who wish I'd be constantly nice about local TV, but I take no notice of that either. Television is what it is, a low and hungry thing - sometimes rubbish, sometimes not and not as satisfactory as it used to be, but still capable of great moments, though probably not on Seven Sharp.
Another interesting thing about my mother and her lively relationship with television is that, after years of apparently being unable to even find the channel, she now regularly watches TV3 for the 6pm news and for Campbell Live afterwards.
She thinks John Campbell is marvellous - which is one of his favourite words that she must have picked up. I realised how much I liked him too when he went on holiday recently. The show was a hollow thing without his enthusiastic honking and arm waving.
And, golly, he's been doing this show for absolutely ages - eight years, in fact, and he was on-screen in other news-bothering roles on TV3 for a good 10 years before that.
He's good, I thought, watching him last week, back from his break and perkier than ever with his perfect hair and his worried brow. And he has improved with experience and the lessons learned from occasional misjudgments.
He can be awfully preachy and sometimes he does honk like a ruffled goose, but the goose is often in pursuit of the truth. It is a good goose.
Last Thursday, for instance, was a top show from Campbell Live, kicking off with a lugubrious "Not joining us tonight, the Prime Minister ..." Campbell instead interviewed a defeated-looking Peter Dunne about the unravelling phone-spying scandal.
Campbell's intellectual agitation is a wonderful and rare thing on current affairs TV. He's not afraid of showing a little passion, never mind attitude.
On Dunne's support of the Government's GCSB legislation, not beating about the bush, he demanded "what the hell are you doing supporting it?" before finishing the piece with a dramatic, "This is an extraordinary business."
I pictured my mother nodding along to such wisdom.
Campbell Live isn't just about Campbell the frontman, though, as I mentioned, he must never be allowed to go on holiday again. The show has a good team in the field.
On Thursday the stylish Dan Parker - Paul Weller hairdo, nice coat - reported in from the provinces on another extraordinary business, the awful state of drinking water out there, most especially in Tokomaru and Tasman.
"Third world water," someone he talked to said. Back in the studio, Campbell shook his head in wonder - and shook it again after the show's third story, a disturbing interview with a witness to the car crash that killed Alan Hubbard.
Welcome back John Campbell. No holidays till Christmas.