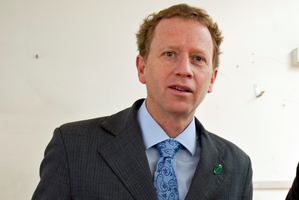 MPs' attempt to stifle Green leader close to bullying

Russel Norman was on the receiving end of brickbats in Parliament this week when he used the opportunity to express New Zealand's sympathy for the Philippines to deliver a lengthy harangue on the perils of climate change.
National MPs and Labour's Shane Jones heckled the Green co-leader as his address wound on. Supposedly, they were objecting to an abuse of the convention of keeping politics out of condolences and going well over a three to four-minute norm.
But what they were demonstrating more fundamentally was a growing intolerance of the right of people to say what they want.
It is problematic to draw too direct a link between a specific weather event such as Typhoon Haiyan and climate change. But that does not mean Dr Norman should not have been able to use this forum to suggest as much.
He was quite within his rights to make the connection, and, drawing extensively from the head of the Philippines delegation at UN climate change talks in Warsaw, Yeb Sano, to criticise those who deny the existence of global warming.
In the same vein, people who are sceptical of that link and, indeed, the whole idea of climate change should be listened to politely when they express that view.
We are all the losers if those with one viewpoint curtail debate by silencing their opponents. Trying to achieve this by shouting them down smacks of bullying and intimidation.
It does not demonstrate the tolerance that is present in every healthy society and provides room for every person to express their ideas.