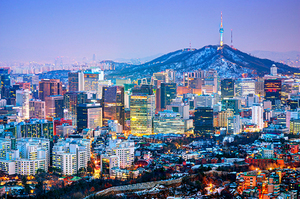 The Global Green Growth Institute (GGGI) Summit on 10-11 June 2013 in Seoul was an eye-opening experience for a number of reasons. In a practical sense the scale of South Korean organisational thinking is manifest in the Songdo Convensia - a vast 'international city' purpose-built to attract and retain this type of event; the Koreans realise that conferences not only make economic sense, they can also be used as a means of capturing intellectual innovation. Even more compelling was the depth of green growth strategic thinking and economic self-assessment demonstrated by attending nations. In this sense New Zealand has a lot be proud of, but it also has a lot to learn.

Green growth is not an abstract concept in South Korea, it's a reality that delivers billions in economic returns and at the same time improves energy efficiency, water quality, food security and public health. The 27 core technologies deemed as useful solutions to environmental and energy challenges and facilitating transition to low-carbon, green industries have a total market value of USD$1.5tn, and are expected to be worth USD$5.7tn by 2020. Domestic bank loans for green business and projects are more than USD$4.5bn. Green investment funds total more than USD$1.5bn. Big business by any measure. ?Green growth was formally introduced in South Korea in 2008 by way of a ministerial taskforce under the auspices of then President Lee Myung-bak. The positive economic and environmental outcomes delivered by this leadership, in what was a relatively short five-year period, is now the subject of intense study for economists globally. True, if we look closely, Korea has significant tools that New Zealand does not; a 50-million strong population, a more central style of government and what we might politely refer to as 'less emphasis on lifestyle' than your average Kiwi.
But also remember that South Korea transitioned itself into a high-tech manufacturing powerhouse from a very poor post-war agricultural nation in the 1950s.

Insight, willingness and leadership can achieve great things. Some relevant lessons New Zealand can import from the South Korean experience, both in terms of green growth and for 'cleantech', as a more environmentally benign technological innovation subset of green growth, include:

Put the green debate to one side: environmental toxicity, resource constraints and inefficient use of energy eventually inhibit economic growth. Therefore the point at which a nation begins to steer its economy in a direction that is 'sustainable,' (i.e. "can continue in perpetuity") dictates the extent of long-run cost adjustments that will inevitably be realised.

Capture diffuse value: Clean technology also provides environmental and social benefits not necessarily captured by the entrepreneur, so to encourage growth in specific markets, mechanisms need to be developed to account for this value, such as (a). increasing R&D via credit programmes, (b). providing direct finance and de-risking investment exits, (c). establishing business incubators and networks of incubators, and (d). scaling up existing technologies through direct funding.

Top-down policy requires bottom-up capability: Policy intervention works best when local/domestic entrepreneurial business systems are in place, especially for New Zealand's predominantly SME business community, where capability tends to be thin.

Holistic investment approach: Encourage investors to stop thinking about picking winning companies, and instead think about creating winning ecosystems between customer, finance, technology and entrepreneurs.

Technology transfer can lead to technology dependence: Differentiate between technologies which accelerate performance and improve efficiency, and those creating an unaffordable dependence and contributing to energy intensity. Focus the nation on asset creation, not owning the latest heat pump or air conditioner.

Taking these factors into account, overall I am really encouraged by what I am seeing in New Zealand right now - excellent work by the likes of Land and Water Forum has lead to meaningful policy change around water management, regional and city economic development agencies are now looking at ways to embrace green growth through planning tools, and central government is taking a closer look at how long-term wealth might be generated by greening key aspects of the economy. Pure Advantage will shortly release details of our first three integrated workstreams underway in affordable energy efficient homes, woody-mass biofuel and sustainable agriculture. ?There is much to be done, but it does feel like real progress is being made.

ABOUT THE GLOBAL GREEN GROWTH INSTITUTE

The Global Green growth Institute was founded on the belief that "economic growth and environmental sustainability are not merely compatible objectives; their integration is essential for the future of humankind." The organisation has been established by governments to maximise the opportunity for "bottom up" progress on environmental challenges within core economic policy and business strategies; with global climate change economists such as Lord Nicholas Stern sitting on their select Council. GGGI is funded by donor nations including Australia, Korea, UAE, Qatar, Norway and Denmark.

Duncan Stewart is an environmental scientist and entrepreneurial investor with a passion for growth businesses and innovative technology. He holds a growing portfolio of cleantech companies under advisory brand The Greenhouse, is the CEO of green growth business group Pure Advantage, and a board member of the New Zealand electric vehicle association APEV.