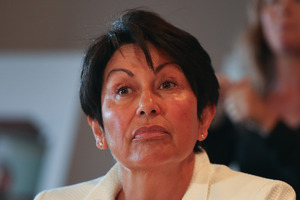 A rally against proposed Christchurch school closures and mergers is planned for this afternoon.
Education Minister Hekia Parata announced that 12 schools would close and six would merge, including two schools merged at another site.
Seven schools will shut by next January, despite assurances from the Ministry of Education that children could stay until 2015.
Final decisions would be made in late May.
Ms Parata said she would be listening to people's concerns during the consultation period, including messages that came from today's protest rally.
"I will continue to listen, the Ministry of Education will continue to work with every school," she told Radio New Zealand.
She defended the decision to bring forward the date of school closures before results of this year's census were known.
"In the Ministry of Education we get roll returns of every school in March and July, so we have a very accurate picture of movement between schools and across the city."
Ms Parata said the consistent feedback she had received was that parents wanted certainty for the future of their children's education.
"They wanted to know one way or the other what was happening so that they could make decisions for their kids and this is the next stage in that process so they can have that certainty."
She said until final decisions were made it was impossible to know how many teachers and support staff would lose their jobs with the changes.
"Parents still have a choice of where to send their kids and we have the same number of children and that's how the entitlement for teachers is determined.
"So we have the same number of children as we will have provision therefore for about the same number of teachers."
Yesterday, Prime Minister John Key backed the decisions, made for "the long term good" of the rebuilding city.
Labour Party acting education spokesman Chris Hipkins said the interim decisions were premature in the fast changing post-disaster landscape.
Some schools were now considering whether to seek a judicial review into the decisions, which Greens co-leader and education spokeswoman Metiria Turei believed was possible.
But as Keith Turner, principal of doomed Kendal School, said: "Dollar signs suddenly start to appear which should go on children's education."
While accepting it was devastating news for some schools, Ms Parata refused to apologise, saying, "Look, change is hard".
Phillipstown principal Tony Simpson said it was a "cruel blow to the heart of our community".
Teachers, parents and children were in deep shock, he said.
- APNZ