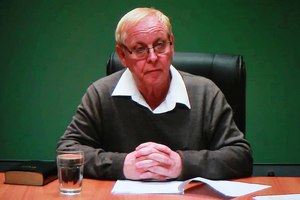 Prime Minister John Key says people need to be held to account for the collapse of the CTV building, as police begin an investigation into the man who supervised the construction of the doomed structure.
A senior police investigator has been asked to investigate Gerald Shirtcliff, who was the construction manager for the building, which collapsed in the February 2011 earthquake, killing 115 people.
Shirtcliff, who now lives in Australia, is accused of stealing the identity of another engineer and faking an engineering degree.
The allegations against Shirtcliff, a convicted fraudster, will be looked at by a senior investigator assigned by Police National Headquarters.
Asked what he thought about the investigation, Mr Key said he wouldn't want to comment, but added: "At the end of the day that's a place of great tragedy and people need to be held to account, that would be the expectation of New Zealanders that if there's a catastrophic failure and there's criminal liability the police will follow up on that, but that's a matter for them".
Last week it was reported that Shirtcliff, 67, who is also known as William Anthony Fisher, could also face an investigation by the Australian Federal Police.
He gave evidence at the Royal Commission of Inquiry investigating the collapse of the Christchurch CTV building last month.
Building and Construction Minister Maurice Williamson said Mr Shirtcliff could face extradition to New Zealand "if it turns out to be as serious as the initial implications are".
"I don't know how severe the charges could be ... but obviously they could go very high - 115 people lost their lives, if a person was using a fake ID and was the engineer supervising the building ... I think there could be some pretty serious charges to be laid," Mr Williamson told RNZ. That's for the police to determine."
Mr Williamson has assigned department staff to ensure the current system would not allow unqualified engineers to be responsible for a building's construction.
"You've always got to think ... are our systems robust enough to stop someone who has all the paperwork and all the qualifications and all the references from the university but it turns out they are not that person?
"You could probably find a way of getting through that no matter how robust the checking processes were.
"I look forward to whether the police decide to lay charges and then seek extradition of this man back to New Zealand."
Australia's professional engineering body has written to Shirtcliff asking him to respond to allegations he faked his degree and lied about his qualifications.
The investigation by Engineers Australia may be referred to the Australian Federal Police if it decides a crime has been committed.
Engineers Australia said the allegations against Shirtcliff were "very serious", especially given he had been working for major engineering consultancies.
Shirtcliff, when he gave evidence at the Royal Commission, said he was a graduate civil engineer.
Asked why he lived in Australia under the Fisher identity, Shirtcliff said it was because of "family issues" dating back 40 years.
Since giving evidence he has been accused of stealing the identity of a British engineer he once worked with in South Africa and faking an engineering degree to get jobs in New Zealand and Australia.
It is alleged the fake degree from Sheffield University meant he was able to gain entry to a masters program at University of New South Wales in 1971, which led to him getting a Masters of Engineering Science in highway engineering in 1974.
The University of NSW is investigating Shirtcliff's background and said if claims were proved it would cancel his degree.
His contract with international engineering consultancy WorleyParsons was terminated last month.
The firm said a review was carried out into what projects Shirtcliff worked on and found no irregularities.
Shirtcliff's Brisbane lawyer David Tucker issued a statement saying he "strenuously denies all of the allegations".
Maan Alkaisi, whose wife Maysoon Abbas died in the building, told RNZ he welcomed the New Zealand investigation.
"I think it's very appropriate because if it turns out that he lied about this in front of the royal commission ... I think he has to be investigated further."
Mr Alkaisi said many were sceptical about Shirtcliff's evidence during the inquiry.
"It is very appropriate if he has [lied] he obviously deserves to be punished for what he did."
- APNZ