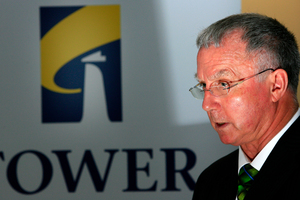 Insurance and financial services company Tower says earthquake-related claims will mean its annual net profit will be $9.4 million below market expectations.
The market had been looking at a net profit of about $50.1 million for the 2011-12 financial year, so a figure of around $40.7 million now looks likely.
The move equated to a one-off impact of 3.5c a share.
Tower said the impact of the Christchurch earthquakes continued to involve elements of uncertainty for the company and that the board considered it prudent to be conservative when providing for the amounts that would be paid to affected policyholders.
The company bore the brunt of the Canterbury earthquakes in the 2010-11 year, when its net profit fell to $33.4 million from $58.1 million in the previous year.
"While claims have not dented Tower's underlying financial strength, market expectations of Tower's net profit after tax for the year ending September 30, 2012, should be reduced by $9.4 million to take into account increases in claims provisions relating to the February 2011 event," Tower said.
The company said that while its reinsurance cover for the earthquakes had not been fully used, continued notification of claims and the application of an appropriate risk margin, together with an inflationary allowance, would bring the total claims and provisions over Tower's $325 million of cover.
Since the Christchurch earthquakes, Tower has increased the limits on its reinsurance programme to $500 million per event.
Managing director Rob Flannagan said Tower remained well capitalised at about $475 million of equity, well in excess of regulatory capital requirements.
Tower's result for the September year is due on November 30.
Flannagan said Tower had concluded a strategic review, which began earlier this year.
The review involved an evaluation of aspects including capital structure, its existing four business units, and strategic acquisition and divestment opportunities.
Tower expected to be able to provide further information on the review next week.
Paul Glass, principal at Devon Funds Management, which owns 5.89 per cent of Tower, said the market was eagerly awaiting the review's results.
"In spite of the recent strong share price performance, in our opinion Tower continues to trade at a significant discount to both its intrinsic value and its sum of the parts value," Glass said.
"The board needs to address this valuation gap."
Glass said Tower had been languishing strategically and that the flow of information to shareholders had been poor.
Forsyth Barr analyst John Cairns said Tower had made a prudent move by adjusting market expectations, but said the review would be of greater importance for the company.
Tower's four businesses comprise investment, health, life and general insurance.
"The problem with Tower is that its businesses are small by themselves," Cairns said.
Tower raised $81.3 million in fresh capital to fund expansion through acquisitions in 2009.
The acquisitions did not eventuate, which had the effect of heavily diluting Tower's earnings per share, Cairns said.
Aside from the review, Tower also faces uncertainty in the form of its single biggest shareholder, Guinness Peat Group, which wants to divest its 34 per cent stake.
The stock, which was trading at $1.48 this time last year, closed down 6c yesterday at $1.78.
TOWER UPDATE
* Profit expectations of the market should be reduced by $9.4m.
* $40.7m result now appears likely.
* Drop equates to a one-off impact of 3.5c a share.
* Details of strategic review expected next week.
- APNZ