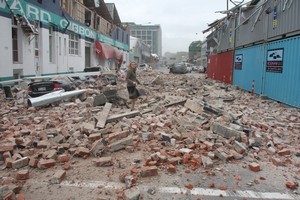 Swiss Re, one of the world's biggest reinsurers, estimated today that last week's Christchurch earthquake would cost insurers between US$6 billion ($8.1 billion) and US$12 billion ($16 billion).
"The total insured claims for the insurance sector for the earthquake in New Zealand are estimated to be between US$6 billion to US$12 billion," said the reinsurer.
Swiss Re added that the deadly catastrophe was expected to cost the Zurich-based outfit US$800 million before tax.
The reinsurer noted that costs to the industry were particularly high as take-up rates for earthquake insurance was significant in New Zealand.
It added that there remained uncertainties in its estimates and that the preliminary forecasts could yet be revised.
The reconstruction bill for the city has been estimated at up to $16 billion.
Death toll continues to rise
Meanwhile the official death toll from the Christchurch earthquake has now reached 160, police announced at a press conference this evening.
Canterbury district commander Superintendent Dave Cliff said that due to high winds in the city today, there was a lot of dust, debris and in some cases corrugated iron blowing around the city, which reinforced the importance of people staying out of the cordon area.
Christchurch Mayor Bob Parker had visited the hard-hit suburbs of Sumner, Mt Pleasant and Redcliffs today, and said his thoughts were with those people in the suburbs who had been worst-hit by liquefaction.
He said heat and wind had exacerbated the situation, making today "about as unpleasant as it is possible to make a day".
Mr Cliff said that residents of 60 homes in the suburb of Sumner were evacuated at around 10.30 this morning due to a falling rock.
Russell Wood from the Fire Service said that the wind and dust had made searching difficult but USAR teams were pressing on.
They had now managed to get beyond the 10th floor of the Hotel Grand Chancellor building and their search of the building was almost complete.
He also said a large steel support structure had been secured to a wall in the ruined Christchurch Cathedral, where up to 22 people are believed to be trapped.
USAR teams may be able to start rubble clearing and searching the cathedral during the night.
Families of missing take 'emotional' tour
Mr Cliff said that this afternoon, the families of those still missing in the devastated CBD had the opportunity to visit sites where people are believed to be trapped.
He said 250 foreign nationals and 150 New Zealanders went on a "very emotional" bus tour to see first-hand the devastation.
"The mood was sombre and emotional but we think it was helpful for them to see the mammoth task Urban Search and Rescue teams have had to undertake."
Red Cross announces grants
The visit came as the Red Cross announced the establishment of two grants - an emergency and hardship grant and a bereavement grant - for people affected by last week's devastating Christchurch earthquake.
The emergency and hardship grant is $1000 per couple or family, and $500 for single people, living in their homes without power or water or sewerage or people forced to leave there homes.
There is also a $10,000 bereavement grant for the next of kin of victims.
People from overseas affected by the earthquake are eligible to apply for these grants.
The Red Cross has so far raised more than $11.6 million with more to come.
Entrance into cordon may soon be granted for some
Civil Defence controller Steve Brazier said this evening that plans were progressing to begin allowing people inside the central city cordon, particularly to retrieve their vehicles.
"There are a lot of cars in the streets and in parking buildings," he said. "We'll either allow acess in to receive them or take them out and leave them somewhere to be picked up."
This would be done in stages and start in the least affected areas.
Mr Brazier also said 900 portaloos had now been deployed across the city, with another 200 expected by the weekend.
Several thousand chemical toilets were also on their way.
If people urgently need a portaloo, they can call the council on (03) 941 8999, he said.
- NZ Herald staff, NZPA