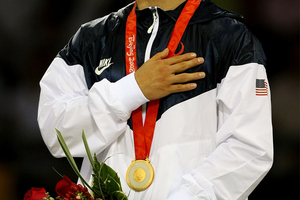 Here's what I really don't like about the Olympics, and it has nothing to do with drugs or tennis.
Anthems and more anthems. Or in other words, what passes for patriotism.
Patriotism should be a subjective concept, but it has been turned into a loud, breast-beating, table-thumping piece of pre-packaged nonsense. Where has this unbridled form of patriotism got the world, you have to ask, and the answer is less than nowhere.
I do understand why athletes and many others are moved by this. They are conditioned that way, heavily.
But all those loud hand-on-heart anthems with the flags going slowly up the pole are also a reminder of the horrible side of life and sport, like what happened at the Berlin and Munich Olympics.
Why do we have to think so much of our own country, just because we were born there.
The whole idea of patriotism the way it is commonly conveyed is actually at the root of most of the world's problems. So if we have to continue down this path, then can't we at least tone the message down. We need to expand our thinking in more enlightened ways, not continue down the brainwashing drain.
I'm totally over anthems before and after national sporting contests. I get the creeps when the camera crawls up the line of players as they stare solemnly forward, hand on heart, belting out or mumbling lots of unintelligible things about lots of unintelligent concepts. One of those players needs to pull a face, have a laugh, sing Ba Ba Black Sheep, and stop taking the whole damn charade so seriously.
This cardboard-cutout patriotism should be passe. Our view of a deeply troubled world - one that is on the brink in many areas - needs a massive overhaul, led by people with a global view and interesting things to say.
I read an interview with an artist who recalled that a stranger had berated him for not standing to attention to the sounds of Dave Dobbyn's song Loyal. This bloke was loyal to whatever he believed in by not standing up for Loyal, and good on him. I cheered for that.
Every second advertisement on TV seems to have some reference to being a Kiwi or what it means to be a Kiwi, or how amazing New Zealand is. New Zealand isn't any more amazing than any other country. Many places have their pros and cons, strengths and weaknesses, depending on what floats your boat, or your state of mind at the time. Taking credit for beautiful lakes and soaring mountains is like taking credit for gravity.
Australia and England and the United States and Turkey and Russia and Germany and Tonga and Nigeria are all amazing places.
The All Blacks and Wallabies should run out on to a rugby field, stick the ball on a kicking tee, and get on with the game without all the haka hoo-ha and more bleeding anthems. I'm sick of getting loud-mouthed patriotism jammed down my throat just because I like watching sport.
I've seen enough haka and heard so many anthems that they just don't mean anything any more and I'm not so sure I like what they seem to stand for - aggressive nationalism - in the first place. The world is rife with conflict and doesn't need more of this sort of patriotism. It needs less.
Hearing the American anthem over and over again from London is going to make me like the Games less. It's going to remind me that the world is an inequitable place, where the United States tries to make all the rules and has a memory lapse about Agent Orange while threatening Syria for mentioning chemical warfare.
I fear the Games will become another muscle-flexing and image-bolstering exercise by an insecure America, or be seen as such even if that isn't America's general intention, leading to more resentment among people who already resent things that America has done. I really can't see the benefits in that.
Those in power use overt sporting patriotism to pretend all is well. Advertisers use it to sell things. National honour shouldn't involve the endless singing of a drab song or raising a flag that many of us don't even like.
Just hand out the medals, wave a little flag if you must, and get on with the next event. Pride yes, but with displays of national humility - that's the way forward for the Olympic Games.