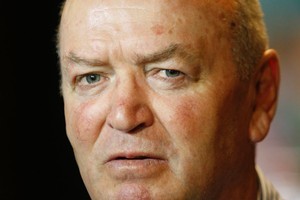 Ooooh, what fun.
Winning a Rugby World Cup not only restores the economy and enables us to enjoy a few street parades, but we also get to sling advice around the world with a greatly reduced risk of getting a lot of muck slung back.
Gone are the days when Kiwi rugby-ites had to duck the head down as the sporting world pointed out, sometimes quite pointedly, that our specialist subject was messing up the World Cup. Sir Graham Henry has emerged from his summer hols to detail a few faults in the English, those losers who haven't won the Webb Ellis since way back in 2003.
Henry is bang on the mark with one point. England play with too much caution and fear. The English see the game as static huddles that eliminate glaring stuff ups, while in the process creating one giant stuff up.
However, his assertion that England are world champions at wasting talent is up for serious challenge considering our constant World Cup failures. New Zealand has a decent history of genuine talent-wasting when you consider that rugby is now a World Cup-centric activity, and Henry - having blown it once - came perilously close to blowing it again against a dishevelled French side in last year's Eden Park final.
As for his assertion that England has a lot of "top drawer attacking players" going to waste, he must be looking at those public school cart horses through rose-tinted glasses. British and Irish rugby has produced a few wonderful backs over the years, but most are Welsh or Irish and virtually none English.
The English backs are still stiff, uncoordinated, unskilled blobs - most of them look like blokes who should have been forwards, epitomised by Mike the Monolith Tindall.
The best English back I've seen was the 1970s wing David Duckham, but even he was a power runner a la the magnificent John Kirwan. Unlike Wales and Ireland, England has never produced players on the same planet as Christian Cullen, Carlos Spencer, Andrew Mehrtens, Dan Carter, Ma'a Nonu, Jonah Lomu, Tana Umaga, Israel Dagg etc etc. And that's not to mention a host of Australian backs led by Tim Horan, Stephen Larkham, David Campese and Mark Ella.
In all seriousness, can anyone come up with one "top drawer" English back - either a name player or un-recognised talent - in the last 40 years. The best of them - Rory Underwood, Will Carling, Jonny Wilkinson and company - were second-rate by the highest standards.
Maybe our esteemed former All Blacks coach was clunked on the head by a sword. The current England backs - with the possible exception of the Harbour Hopper Manu Tuilagi - belong in the third drawer down. A few could be chucked in the bottom of the closet.
The story is much the same in English league and their soccer players are - with very rare exceptions - not the most gifted so maybe the problem is in the gene pool. The challenge for English rugby is to find brilliant footballers to complement their muscular forwards. History suggests the passport office is their best hope.
Auckland rugby has become a doormat. Ma'a Nonu will join his new Blues team mates late because of his Japanese club commitments - something that wasn't made clear when he signed. Now we are playing second fiddle to Japanese clubs and Nonu's bank account. The rot goes on. Given Nonu's position, it is tempting to suggest the welcome mat should never have been extended in the first place although I have to admit it is still exciting to contemplate what he might do in a Blues jersey.
Unfortunately, it almost feels as if beggars can't be choosy in the disheartening business of supporting Auckland rugby. A once mighty institution has fallen so far. For those too young to remember, let me remind you that Auckland was once the mightiest province in the game and the envy of the rugby world.
Debate continues over the merits of cricket's decision review system. For all of the faults - and the system is not perfect in marginal situations - the decision-making has improved markedly although the lbw rulings are most open to question. Vitally, the DRS gives cricket a way of removing umpiring howlers.
The ICC should have two clear aims. The first must be to force India to accept use of the DRS so that international cricket is on a universal footing. The second should involve working tirelessly to improve the DRS' accuracy.
Has men's tennis been in better shape? There might be questions over standards in the era of power tennis, veterans may hanker for days when tennis had more shotmaking skill and grace, and subjective comparisons with champions past can always provoke debate.
However, beyond question is that the triumvirate of Novak Djokovic, Roger Federer and Rafael Nadal are producing a string of utterly amazing matches, the latest being a drama-packed Australian Open final.
How long is this particular string. Who knows?
The most exciting eras in sport usually involve outstanding rivalries. An exception was the heyday of Tiger Woods which involved Woods versus the rest but fabulous times for individual sports are invariably based around specific match-ups.
We are lucky enough to be experiencing exceptional years for men's tennis - the sheer length of critical Grand Slam matches involving the Big Three is staggering. (Andy Murray chips in now and then with an ill-fated contribution). Even if it is sometimes more marathon than masterpiece, the tension gnaws away dragging you along for a draining ride.
The players' stamina, determination and concentration levels are ground-breaking although for my money, nothing in tennis has come close to beating John McEnroe in his punk prime.
You can't be serious. In TV promotions for his latest fight, Sonny Bill Williams continues to claim boxing helps his rugby. Where is the proof?