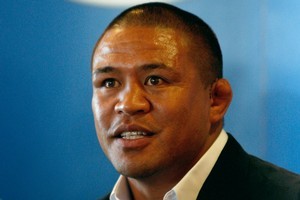 He's the last great standing and Keven Mealamu is the Blues' best hope for turning their free-falling season around.
This is a forlorn hope, of course, as anyone who watched them stumble around Eden Park last Saturday night would attest.
And they've got virtually no chance of winning in Timaru, where Pat Lam's troops will face a Crusaders outfit whose desperation levels will be raised by Richie McCaw's absence.
Dan Carter's tactical nous alone will be too much for the Blues, who will relinquish top spot in the New Zealand Super 15 conference via a fourth straight loss. Whatever Lam's game plan might be - and it's not one of life's most discernable objects - the mighty red and black machine is lying in wait, ready to crush northern frivolity with their own brand of ruthless southern hospitality.
With a heavy heart, I predicted at the beginning of the season that the Blues' first five-eighths circus act was indicative of their failed strategies and would bring them down.
While not the only problem, the lack of an authoritative controller is at the heart of the Blues' late-season problems. After notching a surprising number of wins, they've hit the skids since fullback Isaia Toeava was forced out by an old hip injury because they were too reliant on him leading their off-the-cuff game plan.
Watching the Blues scrum being demolished by a moderate Chiefs pack last Saturday night was another low. If they don't sort that one out - and Mealamu will be essential - the Franks boys and Wyatt Crockett will eat the Blues pack alive in Timaru.
Rather than dwell on the rotten state of a once glorious rugby empire, let's take the opportunity to salute one of the biggest hearts and unique talents you will see in a rugby jumper.
What used to be a steady stream of Auckland legends is down to a trickle named Mealamu.
Few who first saw him in the late 1990s will forget the adrenalin charge he ignited - a little ex-flanker in the front row who took off as if there were afterburners in his boots. There has never been a hooker with the exceptional acceleration Mealamu possessed early in his career.
There were inevitable and quite fair claims that he was too small to make the top flight, but Mealamu proved the doubters wrong. One way he achieved this was by stacking on a load of extra muscle.
This may have been a sensitive subject because a caller claiming to be a Mealamu relative rang this newspaper once and stridently complained that we were still using Little Kevvy's old weight whereas he had cracked the 100kg mark.
Mealamu was loaned to the Chiefs for a season and Samoa also came knocking at his door when general opinion marked him too small for All Blacks duty.
I remember putting the Samoan option to Mealamu when he was at the Chiefs and the response was politely dismissive. Mealamu still knew where he was heading and 83 All Black tests later, the 32-year-old is going strong.
Longevity is essential to the making of any provincial legend and Mealamu has more than passed the test of time for Auckland and the Blues.
As the Blues blundered their way through the first half against the Chiefs last Saturday, the only ray of hope sat on the bench. Little wonder that in Mealamu's case, coach Pat Lam has found it difficult to meet the All Blacks' rest requirements for their leading World Cup contenders.
When Mealamu joined the fray, a tingle touched the spine. That used to be par for the course when an Auckland side ran out on the field.
Mealamu is a true Auckland rugby legend, and you can't spray that word about any more.
* The Warriors are striking the Wests Tigers at a good time after they were forced into a golden point shootout against Newcastle on Monday night. The Warriors meet Benji Marshall's men in Auckland on Sunday, six days after the Tigers snatched a field goal win at Leichhardt Oval.
Seven extra minutes may not sound a lot, but in the torrid NRL this still tests the reserves of players. Anything that might blunt the freewheeling Tigers will help Ivan Cleary's mob.
As for the golden point concept, it can produce drama but the NRL should go back to accepting 80-minute draws.
The game is split on the issue, with a number of players supporting the golden point although veteran coaches Tim Sheens and Wayne Bennett are opposed.
A draw over a set timeframe is far more legitimate than sudden death, which is a fair old lottery.
Given that possession is relatively easy to retain in league, declaring the first scorer the winner is decidedly unfair. If the NRL still believes deadlocks should be broken, giving each side a set number of possessions would be much fairer.
Extra time invariably turns into a field goal festival without much constructive attacking football.
Afterwards you wonder why one team deserved to win and the other lose. Monday night's messy shootout at Leichhardt was hardly a good advert for the golden point concept. I used to be a fan but the sugary thrill of the extra time system was worn off.
* The All Whites' travails against Mexico and Australia further proved that last year's magical World Cup ride was about a few remarkable individuals rather than a soccer nation. Or make that an individual - as in a bloke named Ryan Nelsen. A penny for the crocked Blackburn Rovers defender's thoughts if he watched the games from afar.