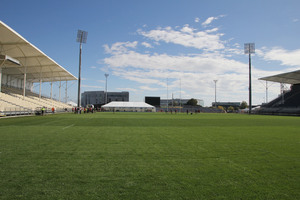 The new stadium will be ready in time, just, so everything is rosy again at the Crusaders, right? Well, yes and no.
Crowd figures are now the issue. Crusaders' coach Todd Blackadder said during the week that he hoped the match against the Cheetahs at the new Christchurch Stadium tonight would be a sell-out.
At that stage - Thursday - there were a few hundred tickets left but the fact that any were available this late in proceedings will worry the Crusaders' bean counters.
The capacity at the new stadium is only 17,500 - the Crusaders were attracting average crowds of at least 15,000 in 2010. The city hasn't seen a super rugby match for a couple of months short of two years, and this match marks the return from injury of favourite son Dan Carter. If nothing else, it seemed safe to assume the novelty factor alone would be enough to drag along people who wouldn't normally go.
The fact that chairman Murray Ellis felt compelled to issue a media release early this week urging fans to support their team is an indication of the concern felt at Crusaders HQ.
"There are no fans better than Crusaders' fans, so I am confident they will play their part," Ellis wrote. "But I urge them to get in quick and secure their tickets for the game."
Administrators like to refer to this as a "call to arms" but in reality it is a last-ditch effort to drum up support and serves only to alert the media to their worries. A level beyond this is the "threat" approach as used by New Zealand Rugby Union boss Steve Tew in an attempt to cajole Cantabrians to attend the (not very) thrilling prospect of an All Blacks test against Italy at AMI Stadium in the winter of 2009. It backfired spectacularly.
It's probably safe to say the Crusaders have been stung by the fact that the lowly Cheetahs are their first opponents. The Chiefs were to get that honour on March 9 before the match was transferred to McLean Park in Napier because of a delay in the completion of the stadium.
Christchurch people know their rugby, and although they have been starved of it recently they, like anyone else, want value for money. Many supporters, tired of attending games at what was invariably a wet, windy and cold AMI Stadium, are probably waiting on reports to see if there's an improvement in viewing conditions at the new one.
In the Crusaders' favour after this weekend is an away schedule that takes them to South Africa for two weeks then to Wellington and then Sydney. A good victory over the Cheetahs and then the scarcity factor could combine for good crowds on their return. Their next match in Christchurch is on May 6 against the Reds, who destroyed the Crusaders' super rugby dream in last year's final. Then they host the Blues, Highlanders and Hurricanes. They are four matches more likely to get the supporters' pulses racing. Rugby administrators in Christchurch will be watching, and hoping.
- APNZ