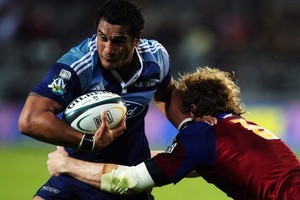 Herald rugby writer Wynne Gray breaks down the six Super 15 matches taking place over the next three days.
HIGHLANDERS v BLUES
Dunedin, Tonight, 7.35pm
Referee: Chris Pollock
TIPS:
Mike Greenaway (Natal Mercury) - 48/67 72%: Blues
Rachel Glucina (Herald on Sunday) 46/67 69%: Blues
Andrew Slack (Wallaby legend) 46/67 69%: Blues
Dylan Cleaver (NZ Herald) - 44/67 66%: Highlanders
Wynne Gray (NZ Herald) 42/67 63%: Blues
THE MATCH: Big home crowd, Gordon Hunter Trophy on the line, first vs third, pragmatists vs flash harrys, should be a cracker.
WHAT TO WATCH: Match-ups all across the track but Adam Thomson and Jerome Kaino should be the eye-catching personal duel as the All Black flankers have been in top form all season.
TAB: Highlanders $2.05 Blues $1.70

CHEETAHS v BRUMBIES
Bloemfontein, Tomorrow, 5.10am
Referee: Marius Jonker
TIPS:
Mike Greenaway: Cheetahs
Rachel Glucina: Cheetahs
Andrew Slack: Brumbies
Dylan Cleaver: Cheetahs
Wynne Gray: Cheetahs
THE MATCH: Two sides struggling to come to grips with this year's competition. Will they reinvent themselves after both had a bye last round?
WHAT TO WATCH: Scan the ground to see if new Brumbies coach Jake White has left the safety of Cape Town to gather some info on the job ahead of him.
TAB: Cheetahs $1.80 Brumbies $1.95

HURRICANES v REDS
Wellington, Tomorrow, 7.35pm.
Referee: Keith Brown
TIPS:
Mike Greenaway: Hurricanes
Rachel Glucina: Reds
Andrew Slack: Reds
Dylan Cleaver: Hurricanes
Wynne Gray: Hurricanes
THE MATCH: The Reds are fizzing again, the Canes had a slight pop to their game last week. But injuries and the trip home from the Republic in the big bird?
WHAT TO WATCH: The Genia-Cooper show. Sometimes it splutters but it is usually flossy, creative, innovative. Not bad for blokes from PNG and Tokoroa.
TAB: Hurricanes $2.20 Reds $1.62

WARATAHS v REBELS
Sydney, Tomorrow, 9.40pm
Referee: Jonathan Kaplan
TIPS:
Mike Greenaway: Waratahs
Rachel Glucina: Waratahs
Andrew Slack: Waratahs
Dylan Cleaver: Waratahs
Wynne Gray: Waratahs
THE MATCH: If the Tahs slip for the third strraight week, it will be a huge boost for New Zealand chances of promoting three sides in the finals.
WHAT TO WATCH: The Rebels start, their finish and their scrum. They have a habit of yielding early points then somehow power home while their scrum should get more borax from the Tahs.
TAB: Waratahs $1.23 Rebels $3.80

FORCE v CRUSADERS
Perth, Sunday, 12.05am
Referee: Vinny Munro
Mike Greenaway: Crusaders
Rachel Glucina: Crusaders
Andrew Slack: Crusaders
Dylan Cleaver: Crusaders
Wynne Gray: Crusaders
THE MATCH: Banana-skin city. The red-and-blacks must bounce back but have a lengthening injury list before they set themselves for the Stormers in South Africa.
WHAT TO WATCH: The determination and gameplan from the Crusaders. How do they recoil; where will they look to hurt the Force; will they fall to the genius of James O'Connor and the will of Nathan Sharpe?
TAB: Force $2.75 Crusaders $1.40

BULLS v CHIEFS
Pretoria, Sunday, 3.05am
Referee: Craig Joubert
Mike Greenaway: Bulls
Rachel Glucina: Bulls
Andrew Slack: Bulls
Dylan Cleaver: Bulls
Wynne Gray: Bulls
THE MATCH: The Chiefs hung on last round while the Bulls sagged once more in their title defence, weighed down by their ageing players and cobweb gameplan.
WHAT TO WATCH: A spring in the Bulls step. Reffed by a local, back at their high-altitude arena, encouraged by their fanatical supporters. A Chiefs win and who knows - it could be the start of a miracle comeback.
TAB: Bulls $1.50 Chiefs $2.45

STORMERS v SHARKS
Cape Town, Sunday, 5.10am.
Referee: Jaco Peyper
Mike Greenaway: Sharks
Rachel Glucina: Sharks
Andrew Slack: Stormers
Dylan Cleaver: Stormers
Wynne Gray: Stormers
THE MATCH: The biggie in South Africa. The Sharks have the momentum and the Stormers more herbs after the rest in the previous round. If the hosts win, the Bulls will be snorting.
WHAT TO WATCH: A replay. It's too early or too late, take your pick. No matter the appeal of this clash, halfway through the competition it does not merit viewing live unless you cook on a braii.
TAB: Stormers $1.62 Sharks $2.20