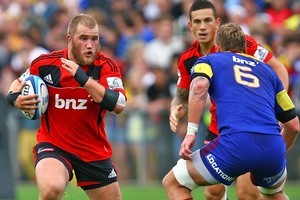 Herald rugby writer Dylan Cleaver breaks down the six Super 15 matches taking place over the next three days.
BLUES V REBELS
Albany, tonight. 7.35pm
Referee: Jonathon White
TIPS:
Mike Greenaway (Natal Mercury) - 44/61 72%: Blues
Andrew Slack (Wallaby legend) 43/61 70%: Blues
Rachel Glucina (Herald on Sunday) 42/61 69%: Blues
Dylan Cleaver (NZ Herald) - 41/61 67%: Blues
Wynne Gray (NZ Herald) 39/51 64%: Blues
THE MATCH: It should be a five-point banker for the consistent Blues. What price would you have got on reading that sentence at the beginning of the season? After punching their cards 40 minutes early last week, the Blues should be primed for an 80-minute assault on the nervous travellers.
WHAT TO WATCH: Not since the days of compulsory rugby for third formers at state boys' schools, which saw kids far more suited to being the flautist in the school orchestra shoved on to the wings for weekly doses of misery, has a player actively avoided having to make tackles as much as Danny Cipriani. He's got all the moves, including hiding behind the line, but his crowning glory is running across as cover, then the flinging the arm out in despair
as a player simply chops off his foot to beat him.
TAB: Blues $1.06 Rebels $8
CRUSADERS v HIGHLANDERS
Nelson, Saturday, 7.35pm
Referee: Bryce Lawrence
TIPS:
Mike Greenaway: Crusaders
Andrew Slack: Crusaders
Rachel Glucina: Crusaders
Dylan Cleaver: Crusaders
Wynne Gray: Crusaders
THE MATCH: It will be interesting to see how the Highlanders approach this. With limited depth and a long campaign, you would be tempted to suggest they pick their battles in the second half of the season and this might be one where a strategic retreat is better in the long term. The Crusaders are halfway through the greatest Super rugby story ever told. Don't expect the fairytale to end here.
WHAT TO WATCH: Kade Poki v Zac Guildford. Two of the form wingers of the competition get a chance to go head to head. Guildford will probably get more structured ball, but Poki doesn't need that luxury to make trouble for defences.
TAB: Crusaders $1.10 Highlanders $6
REDS v WARATAHS
Brisbane, Saturday, 9.40pm
Referee: Steve Walsh
TIPS:
Mike Greenaway: Reds
Andrew Slack: Reds
Rachel Glucina: Reds
Dylan Cleaver: Reds
Wynne Gray: Reds
THE MATCH: Match of the round, no question. The last time the Reds lost to anybody was when the Tahs destroyed them in Sydney, consolidating their long domination over the Queenslanders. The Reds are a better side though, so if they fall over in Brisbane, we can officially label the Tahs their bogey side.
WHAT TO WATCH: The closest thing you'll get to a Wallaby trial. This will have some ginger in it, always does, but not necessarily a whole heap of tries. The Waratahs have failed to convince after a fantastic start to the season. They need a result to prove they have been going through a slump rather than terminal decline.
TAB: Reds $1.50 Waratahs $2.45
FORCE v BULLS
Perth, Sunday, 12.05am
Referee: Mark Lawrence
TIPS:
Mike Greenaway: Bulls
Andrew Slack: Bulls
Rachel Glucina: Bulls
Dylan Cleaver: Bulls
Wynne Gray: Bulls
THE MATCH: The Bulls simply have to win this one to have any chance of defending their title. They have the best second-half draw of any team so if they can get on a roll they might be difficult to stop. The last thing they want is to traipse home with their tails between their legs. The Force were curiously effective last weekend in looking like an inferior side for most of their match against the Brumbies, yet pulling away to win quite comfortably.
WHAT TO WATCH: Expect a fairly methodical sort of encounter. If you're going to miss a match this weekend, this is the one.
TAB Force $2.15 Bulls $1.65
SHARKS v HURRICANES
Durban, Sunday, 3.05am
Referee: Stuart Dickinson
TIPS:
Mike Greenaway: Sharks
Andrew Slack: Sharks
Rachel Glucina: Sharks
Dylan Cleaver: Sharks
Wynne Gray: Sharks
THE MATCH: Was the Hurricanes last-ditch escape against the Cheetahs the start of a revival or further confirmation of a deep malaise. Quite possibly neither. The Sharks got four points for doing nothing last weekend. After a brutal past month that had seen them lose to the Chiefs, Crusaders and Stormers, it was just the tonic they needed. Expect them to be too strong for Mark Hammett's men in Durban.
WHAT TO WATCH: Hosea Gear. It hadn't been a vintage campaign for the All Black wing until he scored two contrasting, yet equally impressive tries against the Cheetahs. He won't get as much leeway here, so let's see if he can create his own magic.
TAB Sharks $1.45 Hurricanes $2.60
LIONS v CHIEFS
Johannesburg, Sunday, 5.10am
Referee: Marius Jonker
TIPS:
Mike Greenaway: Chiefs
Andrew Slack: Lions
Rachel Glucina: Chiefs
Dylan Cleaver: Lions
Wynne Gray: Lions
THE MATCH: In terms of the table, it's a real stinker to end the weekend, but cast your mind back to the corresponding fixture last year, where 137 points were scored in a game that gave every sneering hack in the Northern Hemisphere a magazine full of ammunition to spray at Super rugby. Things have changed a bit since that 72-65 Chiefs' victory. They were third on the table after that win and counted Callum Bruce and Junior Poluleuligaga among
their try scorers.
WHAT TO WATCH: Stephen Donald. The team won't be picked until tomorrow and it might be a week too early after his broken back, but injuries to Colin Slade and Aaron Cruden in recent weeks may have added a certain spring to the first five-eighths step.
TAB Lions $2.15 Chiefs $1.65