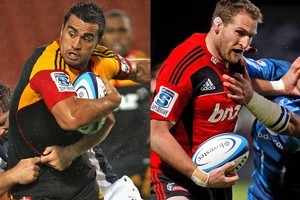 Herald rugby writer Dylan Cleaver breaks down the seven Super 15 matches taking place over the next three days.
CHIEFS v CRUSADERS
Mt Maunganui,
livescoring from 7.35 tonight
Referee: Craig Joubert
TIPS:
Mike Greenaway (Natal Mercury) - 40/54 74%: Crusaders
Dylan Cleaver (NZ Herald) - 40/54 74%: Crusaders
Andrew Slack (Wallaby legend) 37/54 69%: Crusaders
Rachel Glucina (Herald on Sunday) 36/54 66%: Crusaders
Wynne Gray (NZ Herald) 35/54 65%: Crusaders
THE MATCH: Nobody gives the Chiefs a prayer of getting close and it's easy to see why.
The Chiefs are coming off a bye which followed two
losses, while the Crusaders blanked the Bulls in the Paris of the south, Timaru. The Crusaders have an 11-4 record against the Chiefs and an overall points differential of +150. What they don't have, however, is the in-form inside backs combination of Andy Ellis and Dan Carter. Might be closer than expected.
WATCH OUT FOR: Liam Messam v Kieran Read. Two quality eights trying to assert themselves.
TAB: Chiefs $4.25 Crusaders $1.20
REBELS v HIGHLANDERS
Melbourne, livescoring tonight 9.40pm
Referee: Garratt Williamson
TIPS:
Mike Greenaway: Rebels
Dylan Cleaver: Rebels
Andrew Slack: Highlanders
Rachel Glucina: Highlanders
Wynne Gray: Rebels
THE MATCH: It might be a case of after-the-Lord-Mayor's-show, but this game is worth hanging on for. These two teams appeal as
the over-achievers of this year's competition. The Highlanders are doing the little things right while the Rebels are either utterly awful
or not too bad. When they're the latter, usually at home, they're capable of upsets.
WATCH OUT FOR: Adam Thomson is inirresistible form, but there will be more interestin whether Colin Slade can start to convince he's Dan Carter's heir apparent.
TAB: Rebels $2.10 Highlanders $1.67
BLUES v WARATAHS
Auckland, livescoring tomorrow 7.35pm
Referee: Mark Lawrence
TIPS:
Mike Greenaway: Blues
Dylan Cleaver: Blues
Andrew Slack: Blues
Rachel Glucina: Blues
Wynne Gray: Blues
THE MATCH: There's a fair bit riding on this one, with both sides clinging on to wildcard playoff spots. The Blues' tired performance against the Cheetahs a fortnight ago indicated they needed
their bye. A refreshed pack, which will include Jerome Kaino but not Tony Woodcock, is expected to dominate. It's hard to see the Sydneysiders getting more than loose change.
WATCH OUT FOR: The Waratahs change strip. It surely can't be any worse than the LSDinspired guernsey they wheeled out for the match against the Chiefs.
TAB: Blues $1.33 Waratahs $3.10
RED v BULLS
Brisbane, tomorrow 9.40pm
Referee: Bryce Lawrence
TIPS:
Mike Greenaway: Reds
Dylan Cleaver: Reds
Andrew Slack: Reds
Rachel Glucina: Reds
Wynne Gray: Reds
THE MATCH: In the wake of their admirable victory against the Stormers it's time to declare that the Reds Are For Real. The Bulls did not show up in Timaru, or maybe they just weren't allowed to. Whatever the case, you have to expect a reaction in Brisbane. The Bulls also have the advantage of a transtasman flight as opposed to a trans-Indian Ocean one.
WATCH OUT FOR: Will Genia has returned to 2009 for, while Fourie du Preez probably had his least effective game in a Bulls' shirt against the Crusaders. Their battle could be epic.
TAB: Reds $1.42 Bulls $2.70
LIONS v STORMERS
Johannesburg, livescoring Sunday 3.05am
Referee: Marius Jonker
TIPS:
Mike Greenaway: Stormers
Dylan Cleaver: Stormers
Andrew Slack: Stormers
Rachel Glucina: Stormers
Wynne Gray: Stormers
THE MATCH: Have the Stormers been exposed as charlatans by the Reds? Unfortunately we won't find out this week as they travel north to face a Lions team who showed promise early in the season, but now look just as hapless as their predecessors.
WATCH OUT FOR: Something else.
TAB: Lions $3.75 Stormers $1.25
CHEETAHS v HURRICANES
Bloefontein, livescoring Sunday 5.10am
Referee: Stuart Dickinson
TIPS:
Mike Greenaway: Cheetahs
Dylan Cleaver: Cheetahs
Andrew Slack: Hurricanes
Rachel Glucina: Hurricanes
Wynne Gray: Cheetahs
THE MATCH: Up until now it's hard to say what has been the low point of the Hurricanes season. Was it the opening-night loss to the Highlanders? The Andrew Hore sinbinning? The capitulation against the Rebels? No, the TAB have helpfully provided the nadir. As of midday yesterday, they had the Cheetahs favourites to beat the Canes. How low can you go?
WATCH OUT FOR: The magnificently hirsute Piri Weepu. He might be thousands of kilometres away playing for Wainuiomata, but he'll be watched.
TAB: Cheetahs $1.80 Hurricanes $1.95
BRUMBIES v FORCE
Canberra, livescoring Sunday 6.10pm
Referee: Keith Brown
TIPS:
Mike Greenaway: Brumbies
Dylan Cleaver: Brumbies
Andrew Slack: Brumbies
Rachel Glucina: Brumbies
Wynne Gray: Brumbies
THE MATCH: It's a really nice idea Sunday afternoon/evening footy - a pleasant way of rounding off the sporting weekend. Unless you're lumbered with something unpalatable like Brumbies v Force. Apart from the potential for James O'Connor to launch an "I'm-da-man" performance only for Matt Giteau to counter with a "Ah,-no,I'm-still-da-man: display, there's not an awful lot to recommend this fixture.
WATCH OUT FOR: O'Connor v Giteau.
TAB: Brumbies $1.37 Force $2.90
BYE - SHARKS