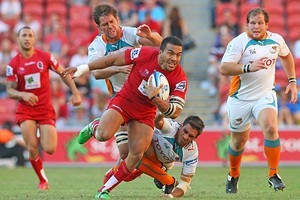 Surprise conquerors of the Waratahs last round, the Cheetahs ran out of puff - and a bit of luck - this week.
This time, it was the Reds who made things happen and the Cheetahs found that a constricting defence and physical competition at the breakdown wasn't quite enough.
They lacked a bit of luck when an attacking Reds lineout produced only a mis-directed pass early on. The bouncing ball can often wrong-foot defenders and winger Digby Ioane fastened onto it and burst through to score under the bar.
Next came a jolting tackle from skipper James Horwill which produced a turnover; halfback Will Genia made space, first five-eighth Quade Cooper took it and ran in the other winger, Rod Davies, in a 70m move.
Genia hasn't much shown his penetrative skills this season but this was his best game to date; making inroads into the Cheetahs defences and spreading the ball cleverly. Cooper remains an enigma - brilliant one minute; headachingly bad the next. He bombed one try when a dextrous offload missed the target - when a simple pass might have done the job.
There is no doubt he can win matches even if (shades of Carlos Spencer) he might also lose them. He passed to the sideline a couple of times but only Cooper could kick-pass the ball to Ioane on his own dead ball line - setting up a raid which almost earned a stupendously cheeky try.
The Reds with Genia and Cooper in form begin to look far more formidable - and it was no accident that the wingers scored the first three tries.
Davies' second came after a Cooper-inspired Ioane break up the middle of the field, beating several tacklers, and Davies used his sizzling pace to swerve outside a marker and score. Cooper converted from the sideline and the game, at 24-3 was essentially over as a contest after 32 minutes.
The Cheetahs were unlucky in that a long-range drop goal from first five eighths Sias Ebersohn bounced off the crossbar when the goal might have given them impetus at 7-6.
But it was the Reds who gained the impetus - Davies scored shortly after - and things went from worse to oh-my-God when captain and lock Wilhelm Steenkamp was yellow carded for a ruck offence.
Thirty seconds later, the Reds pack simply marched over the line for a try to hooker Saia Faingaa.
At 29-3 at halftime, the Cheetahs looked anything but the efficient and effective mob who so determinedly put the Waratahs off their stroke for their first victory in Australia.
In the second half, the Cheetahs tried to run their way back into contention; with the Reds happy enough to pick them off and look for the counter - as when Genia ran 60m for a turnover try and 25m for another.
Steenkamp scored a consolation try towards the end but the Cheetahs meet the Blues in Auckland next weekend and will want to forget this game - and remember the Waratahs.
Especially after basic mistakes like three kick-offs that went directly into touch. Those are the kind of mistakes that replace momentum with momentous disadvantages.
Reds 41 (D. Ioane, R. Davies 2, S. Faingaa, W. Genia 2 tries; Q. Cooper 3 con, pen; M. Harris con), Cheetahs 8 (W. Steenkamp try; S. Ebersohn pen). Halftime: 29-3.