A neat layer of foam tells Don Kavanagh a perfect pint has been pulled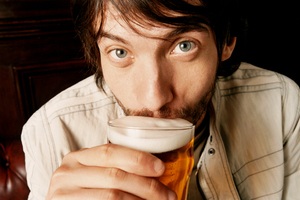 "Could you fit a double whisky in the top of that beer? You could? Well, fill it up with beer then."
I heard that exchange in a bar many years ago and it has always stuck with me. It was between an innocent novice barman and a regular drinker, who had taken umbrage at the fact that the beer he had ordered wasn't full to the brim.
It wasn't necessarily the fault of the barman – he had presented a perfectly good pint, complete with a foaming head of white bubbles, which gradually dissipated until all that was left was a glass of slightly gassy lager and a gap at the top of the glass.
The customer wasn't worried about the lack of head. He was worried about being short-changed in the volume department, which says more about him than I think he would like, because the head on beer is one of its most important and most overlooked features.
Heineken's global pouring ambassador Franck Evers was in town recently and demonstrated the importance of keeping a good head on a lager.
As he pointed out, the head provides a perfect protective seal, preventing the outside atmosphere from tainting the flavour of the beer too much.
Order three lagers in a row from a bar and you'll be amazed at the difference in the level of head. How clean the beer lines and glassware are also affects the amount of head, so if you're not getting any, have a think about whether you want to continue drinking where you're drinking.
Of course, some people think getting froth on top of your beer is a waste of money. I once ordered a pint of Guinness is Sydney, only to watch in horror as the barman scraped off the entire head and presented me with a pint of flat, black soup.
The foam on Guinness is a crucial part of the beer and tells you whether the pint is a good one. If the head turns yellow too quickly or the bubbles open up too much, it's likely to be stale.
Ales and cask-conditioned beers tend to have flavours that require no protection, so they don't need to hold their heads so long, and consequently don't. Also, the level of carbonation tends to be lower in ales than in lagers, which need the extra effervescence to provide that thirst-quenching hit.
So, if you get a beer full to the brim with liquid, don't be too quick to congratulate yourself on getting a fuller pint than anyone else. When beer loses its head, it's rarely a good sign.