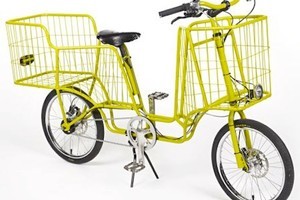 There are some pretty trendy bikes out there these days. In fact, they've become an essential hipster accessory. But like most nouveau-cool accoutrements, the bikes you see are not tremendously practical. Reckon you could hold your head up high and ride the Camioncyclette? Part shopping trolling, part bicycle - all... style?
Once they've stopped using their cars - even to do the weekly food shop - the next step for greenies in the UK is to stop showering. It used to be running a full bath was enemy number one, but could you be tempted to swap your shower for a sponge down? Or use a lemon slice instead of deodorant?
A Twitter-savvy software developer has grown so tired of debating his views on climate change with his disbelieving followers that he has programmed a chatbot to fight his battles for him.
No matter what you throw at the climate clued-up AI_AGW, he'll give you a different clever response each time!
In an interesting blame-shift scenario, India's minister for the environment, Jairam Ramesh, claims the country's declining owl population is a direct result of the phenomenal popularity of Harry Potter. However, the organisation Traffic suspects it is actually the prevalent role these owls play in black magic rituals. Either way, the owls are disappearing and magic is involved!