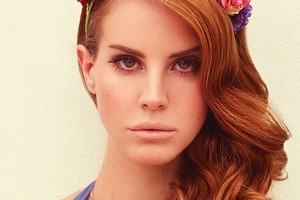 Here's another wrap of all our favourite things on the web today, including new songs from Radiohead, Metallica and Sleigh Bells, videos from Foster the People and Lana Del Rey, the first Lock Out trailer and Wilco presenting the weather. Get amongst it.
1. It can't be easy being Lana Del Rey. Her single Video Games sparked a storm of criticism over everything from her singing credentials to whether or not she'd had plastic surgery. The follow-up Born To Die should put paid to all those haters, delivering another slice of beautifully ethereal and tense pop balladry from the girl with the puppy dog eyes. Choice vid too. (NME)
2. Noiseniks Sleigh Bells combine metal riffs with hip-hop beats and cheerleader chants, and they're back with the first song from their upcoming second album. Born to Lose is another frenetic blast of riff-rock that will annoy your neighbours. (Stereogum)
3. There are quite a few space-bound movies due to hit cinemas in 2012, with Ridley Scott's Prometheus looking to be the pick of the bunch. But Lock Out has potential, especially with Ocker Guy Pearce rising admirably into a starring beefcake tough guy role. He's come a long way since Priscilla. (First Showing)
4. Metallica seem to be in full-on damage control mode after the disaster that was Loutallica. In the build-up for a new album, they're releasing a four-track EP called Beyond Magnetic consisting of outtakes from the Death Magnetic recording sessions. And Lou Reed isn't found grumbling on a single one of them. Phew. (FasterLouder)
5. If you're looking for a band to soundtrack your summer, you could do worse than the pass-me-a-Corona vibes of Big Day Out-bound LA-based quartet Foster the People. Here's the new video for Don't Stop (Colour on the Walls) and you'll want to stick around for the icky ending. (MTV)
6. Radiohead are about to release two new singles, The Daily Mail and Staircase. Great news, especially as Kiwi DJ Zane Lowe debuted the first on his BBC 1 radio show. He gets all the exclusives. (Stereogum)
7. Sacha Baron Cohen is back with his third big screen adventure that will no doubt be another assault on the eyeballs. This time he's The Dictator, a North African general who shoots fellow contestants in 100 metre races and pays to sleep with hotties like Megan Fox. Should be good. (Huffington Post)
8. Atmospheric dubstep minimalist king Burial is releasing a new EP, so here's a snippet of the typically moody and tension-filled track Ashtray Wasp. They keep taking these down from YouTube, so if it's no longer working, I apologise. You've heard of Google, though, right? (Pitchfork)
9. So there's this crazy Aussie band and for their first ever video, they re-made all their favourite iPhone games in real life, including Angry Birds. The video's kinda cool, it's just a shame that the song is pretty average. (Brisbane Times)
10. Lastly, here's Wilco front man and "hairy guy" Jeff Tweedy presenting a weather forecast. "It looks pretty good, I dunno, things could be worse," he says. That's expert opinion right there. (Huffington Post)
Still bored? You need to join a summer sports team. But in the meantime, here's Minuit's new video, Book of the Dead:
Finally the quote of the day comes from someone who had the misfortune of seeing Kanye West making out with Kim Kardashian: "Kanye was eating Kim up like she was a piece of cake." Ugh.
* Seen anything worth sharing? Post your own links below: