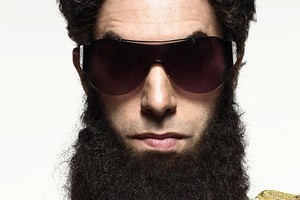 Sacha Baron Cohen has unveiled his latest comic creation - The Dictator.
The first trailer for the British comedian's new film has hit the net, and it shows the Ali G creator wading into the political arena for the first time by playing a North African dictator named General Aladeen.
It is the first time Cohen has created an original character for a feature film. Both Borat and Bruno were first seen on his TV hit The Ali G Show.
The Huffington Post called General Aladeen a mix of Saddam Hussein and Muammar Gaddafi, with the 'fish out of water' plot revolving around a haphazard trip to America.
The movie also stars Megan Fox and Anna Faris, and is due for release in 2012.
Check out the trailer for The Dictator:
- Herald online