Meet a talented Aucklander who is building a career as an international perfumer.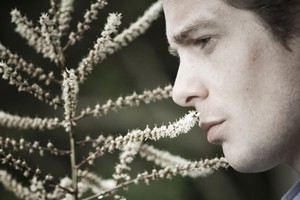 There's a joke in the fragrance industry that there are 1000 professional astronauts in the world and only 500 perfumers. Isaac Sinclair, the sole New Zealander in that latter group, admits he's not sure if the numbers are correct, but there's no doubt he is part of an exclusive club.
The club itself breaks into two tiers, the "noses" who deal in fine fragrances and the majority, often industrial chemists, who work at the less creative more technical end of the market pumping out aromas for fabric softeners, detergents and food and beverages.
Thirty-one-year old Sinclair was born with a good "nose", but he has spent more than a decade refining it after turning a teenage obsession with collecting scents into a career creating them. He grew up in Laingholm and Blockhouse Bay surrounded by his mother's fragrant garden, trained in Milan and found his olfactory feet in Paris.
Now this global citizen is contracted to the French office of a giant multi-national German company, but is based in Sao Paulo, Brazil.
"It's such a mega city, 20 million people, even places like Paris seem small in comparison," he says.
If Sao Paulo sounds a strange place for a perfumer to be, then consider that Brazil has overtaken America in terms of perfume sales, with only Europe combined a bigger market. Accordingly, along with Paris and New York, Sao Paulo is a hub of fine fragrance making. Sinclair shuttles between the cities and in a year or so will likely return to France, but he is in no hurry, explaining that "being a perfumer is not a fast game".
"If I'm going to be spending the next 30 years in Paris - and I go back every few months - I'm better here. His industry's rock stars and his idols are mostly in their fifties and sixties, so for now he's happy to be in booming Brazil gaining invaluable experience, knowing he is likely to spend the next 5-10 years "plodding along", building his reputation and winning contracts for bigger brands.
With his work on a soon-to-be launched fragrance for French designer Vanessa Bruno, and a perfume for Natura, Brazil's answer in direct selling to Avon for which he has also worked, that reputation is growing already. He has collaborated with name "noses" on prestigious projects and is set to earn his first hometown recognition with the launch in November of a new range of candles by Ecoya. The Decadence collection is inspired by the Art Deco era and four woman renowned in their time and cities: writer Dorothy Parker in New York, dancer Josephine Baker in Paris, singer and actress Zhou Zuan in Shanghai and socialite "it" girl Elizabeth Ponsonby in London.
Sinclair set out to make each candle redolent of its time and place, but attuned to a 21st century consumer. The Elizabeth/London candle plays with the idea of a classic English rose, but used in a "super-modern way with a retro throwback". He likens this to how fashion designers mine the archives for inspiration but reinvent rather than recycle. "I love some of the Guerlain fragrances from the 20s, but they're not right for today."
His fragrance inspiration for Ecoya's Paris candle is, naturellement, also floral, but a chic, complex mix. "If you go to London it does not smell like Paris," says Sinclair. Neither New York, which he says smells "dirtier, more energetic".
"Paris feels like the old world. Maybe it is the trees, the buildings that are hundreds of years old, you can smell it."
Or rather he can, after rigorous training that included a year learning to identify hundreds upon hundreds of individual scents, complete with weekly tests requiring an 80 per cent success rate. Then came an education about basic accords and classic fragrances before he could begin mixing his own imaginings. Sinclair says there is no fragrance he does not like, but he leans to minimalist compositions with an airy feel, transparent and realistic, which he puts down to his new world origins.
In an industry dominated by the French, being a New Zealander has given him an innovative edge; in fact it was what gained him entry into the exclusive club in the first place.
Sinclair explains he had a Eureka moment as a teenager: "I looked at all these bottles of fragrance I had and I thought if they exist someone is doing it."
He decided if he could not create them, as a first step he could at least be involved in the industry and sell them. So he phoned around pharmacies and department stores looking for job, being met mostly with the comment, "But you're a guy."
A St Lukes pharmacy took him on and after six months he moved to the well-stocked fragrance counter at Smith & Caughey's which he described as "like a playground for me". It was there he sought advice on how to become a perfume-maker from a visiting fragrance expert who told him to travel to Grasse in the heart of the flower fields of France. When the 19-year-old Sinclair showed up at a conference there a few months later the expert introduced him to industry players, with one so impressed by his determination that he sponsored his training and gave him his first job in Paris.
He recalls that his mentor told him "They have all grown up smelling the same things. You're from New Zealand you're going to bring something new to the table."
Instead of being surrounded by the traditional fragrances such as rose and lavender and the citrus and herbs of a Mediterranean climate, his childhood exposure was to feijoas, tamarillos and gardenia, considered exotic in Europe but everyday here.
"I used to smell ginger weed going to school," says Sinclair who still loves what he calls its animalic intensity.
One day he wants to make a fragrance with costly osmanthus absolute, oil obtained from an Asian shrub which is tricky to combine well with other ingredients. In the natural world he loves the smell of the Queen of the Night plant.
He has relished the creative freedom of his Kiwi commission saying: "Ecoya was like working on an independent film and Avon like a Hollywood blockbuster" - right down to the pre-determined outcome and line-by-line accounting.
He likes that the company which started in Australia before being bought into by the team behind 42 Below is becoming more tailor-made in approach, moving away from buying off the shelf aromas. "Rather than copying what everyone else is doing they have their own flavours, very New Zealand-Australian."
This appreciation of different market needs is vital in the competitive perfume-making business which is dominated by a handful of companies. As well as Sinclair's employer Symrise, the No. 4 player globally, there are the Swiss-origin Givaudan and Firmenich, America's IFF and Japan's Takasago. These firms, each with their own perfumers, essentially audition for the big fragrance jobs which are pre-determined in scope by marketing and finance departments. Few companies aside from Chanel and Hermes retain their own "noses" and working for one brand means keeping to a house style.
With 400-500 significant fragrance launches globally each year the stakes are high. Three years from launch just 10 per cent of the perfumes remain on the market, in five years it falls to 1 per cent. Perfumers in Paris, where there are 15 perfume houses compared with four in Brazil, can work for a year on project to find nothing comes of it.
"Here it's the opposite," he says of Brazil. Still cut-throat, but with a faster turnaround and more opportunity to make a mark, though without the niche brands that ultimately make Paris appealing. New York, he says, is less enticing. "Original ideas are watered down to be consumer friendly."
This exposure to global market realities, coupled with his own heritage, work ethic and ambition, means Sinclair has a unique olfactory identity and is definitely one to watch. He can also easily articulate his arcane world and dissect its complexities.
Brazilians like Oriental-style opulent fragrances, he says, far different from the fresh, sporty scents that rule in America and which New Zealanders lean to. The French fancy the sensual, with a liking for what is deep, dark and provocative. "Anglo Saxons wear fragrance because they want to smell clean, pure, presentable and French [and Latin] people wear fragrance to seduce."
After all that sniffing at work, Sinclair prefers a neutral home environment. Fragrance knowledge can prove tricky on the relationship front, he admits, saying he liked it best when his former wife, a Frenchwoman, chose to wear something he had concocted.
"You can't be a perfumer if you don't have a good nose," he observes with typical single-minded intensity. "If you have no talent and want to be a painter you can still go to art school, but you won't perhaps have an opening a few years later."
Now well along the uphill path transitioning from apprentice to perfume-master in waiting, Sinclair finds time to let off steam by pursuing his other passion. The classically trained flute player who considered a music degree before discovering fragrance making, these days relaxes on the guitar and by writing songs and "flogging the drums in a Ramones power band".
He uses a French phrase to describe his career so far, putting his advance down to "la chance excite", meaning he has provoked luck. "If I wasn't from New Zealand I wouldn't have had this chance."