It's been king of the Kiwi roads for 11 generations and almost half a century. Can anything in the market take on Toyota's Corolla?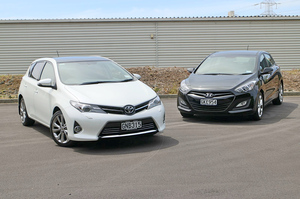 Corolla is basically a synonym for 'car'. It's a model with a 46-year heritage, Toyota's most important car worldwide, and it absolutely dominates the business and fleet market here in New Zealand.
None of that has changed with the latest, 11th-generation Corolla. But Toyota New Zealand is hoping to bolster that company-car business with more private-buyer appeal: superior style, better dynamics and a new flagship model series called Levin.
Toyota is number one by a long shot in New Zealand, but in some respects, its strategy with new Corolla mirrors that of Hyundai with the i30. The Korean car has that same dual personality: lower-end versions are aimed directly at fleet buyers, but the flagship Elite models are swish-looking and lavishly equipped. Avis need not apply.
If you don't mind me saying, the new Corolla looks a lot like the Hyundai i30 as well, especially at the rear, where you could almost think they were different-specification versions of the same car. For a while I was even convinced those tail-lights came from the same supplier; but no, the Corollas have an extra little kink along the top.
Still, Corolla has often been derided for its lacklustre style and driving experience. We critics have praised the i30 for the massive advances in quality and chassis engineering it has brought to its maker in recent years. But throw away that brand baggage, and how do the two really compare?
Hyundai's flagship petrol i30 Elite is $39,990. Straight away the Corolla looks much more expensive: you can buy the Levin SX model for $38,990, but to match the likes of the Hyundai's leather upholstery, dual-zone air conditioning and keyless start, you have to step up to the Levin ZR for $43,690. However, do that and you gain some extra equipment over the i30 Elite, such as gas-discharge headlights with automatic high-beam. The glass roof pictured on our Levin ZR test car is a further $1800 option.
Both are powered by 1.8-litre engines: the Corolla's drives through a Continuously Variable Transmission (CVT), while the i30 has a conventional six-speed automatic. The Hyundai has a slight power/torque advantage: with 110kW/178Nm, it's 7kW/5Nm up on the Toyota, although CVT aids the Corolla to a superior fuel-economy figure. It achieves 6.6 litres per 100km in the Combined cycle, compared with 6.9 litres for the i30.
All in all, not a lot to choose between them. But out on the road, they feel very different. The Corolla's engine is more vocal and less refined than the Hyundai's, and while CVT is a polarising subject among car people, there's no doubt it exacerbates those shortcomings. The Corolla's 'gearless' CVT is otherwise pretty impressive: you can leave it in Drive, or select a stepped mode and use the steering wheel-mounted paddles to change between them.
In Drive, you can also select a Sport mode, which applies what Toyota calls a 'direct shift feel' protocol, preventing the engine from revving too long and hard (the downfall of many CVTs) by stepping down in revs periodically under hard acceleration.
It all works well, but in some respects it's smoke and mirrors - trying to make the CVT feel like a good conventional automatic. Whichis what the i30 has. Its six-speeder is smooth and responsive, and certainly a far more satisfying transmission than any CVT.
The i30 also has Flex Steer, a push-button system that allows you to choose between three different levels of assistance for the wheel. It's a bit gimmicky - perhaps a way to disguise the vacant feel of electric power steering - but it's still good having the option and it's very easy to use. Compare the Corolla's tiller with the i30's Flex Steer in its middle setting and the Toyota still has better feedback.
Both cars have 17-inch wheels wearing 45-profile tyres: the Corolla rides better on urban surfaces and also has the edge in open-road handling, with less of a tendency towards understeer.
Inside, Toyota's aspirations towards making Corolla a more premium offering seem to have resulted in cabin architecture that's quite old-school: a long, flat dashboard that emphasises the car's width. Build quality is exemplary, but there are plenty of hard surfaces and the Levin ZR's faux-leather surfaces do it no favours. The entry-level Corolla actually has far nicer cabin materials.
The i30 Elite has issues of its own. It's more driver-focused, but the proliferation of shiny trim inserts do seem a bit gauche. Like the Corolla, it has a nicely shaped steering wheel, excellent ergonomics and a high level of fit and finish. The i30's modest blue-tinged information display looks a bit low-rent next to the Corolla's large colour touch-screen set-up, but the Hyundai's is very easy to use. Both have good-quality audio, with iPod connectivity and Bluetooth. You'll have to wait for sat-nav to be available for Corolla to really feel the benefit of that big screen.
The i30 has more rear-seat space (its wheelbase is 43mm longer) and a little more room for luggage (18 litres up on Corolla, at 378 litres).
The bottom line: Very close on equipment and comfort. The Corolla's ride and handling is better resolved than the i30, but the provision of the Flex Steer system, that six-speed gearbox and a price advantage makes the i30 Elite our winner.