Bill Ralston explains why his love affair with European cars is over.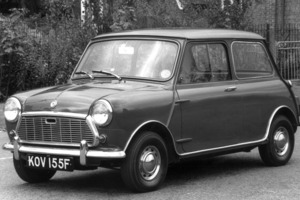 The great unanswerable question is why so many of us, me included, buy cars that we end up loathing? It's like a bad marriage, it starts off exhilarating - you are in love - and then, as time passes, disappointment mounts and you realise it can only end in a bitter, rancorous divorce.
Usually the bile starts to rise when the cars begin to cost us money in repairs, often the product of a breakdown in some particularly horrible remote location. If they do fail in the city it is when it is absolutely vital that it should be going because you are running late for a very important date. Then the breakdowns and faults settle into a downward spiral, from which there is no recovery.
The danger sign for me is when the local garage owner starts giving me bottles of wine for Christmas because I have become such a valued customer. Time to sack the car. Again.
My problem is, I buy utterly unsuitable vehicles. Flash European ones.
This is because, in my childhood, my father bought a succession of some of the most embarrassing cars possible. He started with a 1950s Ford Prefect that could barely make the summit of the Albany hill. Often it didn't and he would retreat to the pub at the bottom to nurse his humiliation with a beer. These were the days before drink drive commercials and the breathalyser changed our behaviour patterns but I now understand his automotive angst and need for a soothing ale.
Eventually he replaced the battered Prefect with an early 1960s Vauxhall Victor, a grotesque lumpy looking thing because its English designers had got carried away with the fins and bulging chrome glamour of Detroit and pimped it up hideously.
Finally Dad tired of it and moved on to a tiny Hillman Imp. Thanks to a rear engine, the hollow front would collapse like a ruptured egg carton after impact with even a plastic road cone. Luckily for us, in those days, there were no plastic road cones.
Our family's final automotive triumph was a brand new Hillman Avenger which, sadly, despite its name, had none of the glamour of the television show The Avengers that my father so liked. Still, he decked it out in sheepskin seat covers to protect the upholstery that so many vinyls had died to produce.
My own first car was the icon of the 60s, an early Morris Mini with sliding glass windows on the side and wire you yanked on to open the door instead of handles. I didn't realise it at the time but it was the best car I'd own for the nearly the next half-century. I soon traded it for a battleship-grey 1959 Jaguar Mark 1. It blew up at Kaikoura on a run from Christchurch to Wellington, so I bought a 1960 Jaguar Mark II 3.8 manual with overdrive. That blew up in Waipukurau on a trip from Wellington to Cape Kidnappers.
Mercifully, the 1980s was the decade of the company car and I was spared further expense and old, combustible vehicles. I discovered the amazing thing about company cars - they could go anywhere and do anything, even my firm's Ford Laser. Off-road, river crossings, rocky terrain and deep snow ... the company car is a brilliant all-round vehicle primarily because you don't own it or have to pay for damage and repairs.
In the 90s I went back into the own-your-own market and snapped up a shark-like 1984 BMW 635 C Si because I'd seen them set a blistering pace on the late, lamented Wellington Street Race circuit. I fancied myself as a bit of speedster because I'd done a week's race-driving course as a preliminary for the celebrity race there one year. That, of course, ended in disaster when, during practice I found myself for the first time driving at high speed through an impossibly narrow tunnel of high concrete crash barriers on either side of the track and, in a panic, stomped on the brake, which caused the wheels to lock like a vice. My poor Nissan neatly T-boned one of the giant concrete blocks. It looked like a crushed sardine can after that and our team mechanics wept.
My BMW 635 got the axe in a rage when it blew up in the wilderness while on the way from Auckland to Taupo. Luckily, I took over the lease of a 2000 Jaguar S-Type from a mate who couldn't afford it any more. Actually, it was lucky only for him. I discovered why he couldn't afford it when I took it on a drive to Piha and back to Ponsonby. Its enormous V8 motor consumed virtually an entire tank of gas.
It got fired when I had to find several thousand dollars to replace its four special low-rise tyres. The second-hand Range Rover that followed didn't last a year. When I took it in to the car-yard to trade, the dealer hollered with laughter. "Mate you've got a V7!" The car had been running on only seven cylinders for the entire time I had it. As you may have guessed, my mechanical knowledge is limited.
Still, he traded me an extremely nice black stretched limo-length 2002 Mercedes S320. After a few years of the merciless Merc, my garage man upgraded me to a better standard of Christmas pinot noir in recognition of my sterling service to his profits.
My tragic parting from a long succession of beautiful cars saw me almost get to the point where I'd administer them a "damn good thrashing", like Basil Fawlty did with his recalcitrant Austin Countryman. I could understand the blind fury John Cleese channelled in that scene. Cars are supposed to go. You put oil and water in one end, petrol in the rear, pump up the tyres and off you go. They are not supposed to constantly break down.
Then last year I did the unthinkable. I bought a Japanese car. It's a Mazda CX7, a cross over. Actually, I have no idea what a "cross over" is. In theory you can put it into four-wheel-drive and I have no doubt it could then cross a mildly damp paddock on a fine day.
However, I've noticed a startling development. Nothing has gone wrong with it. Everything works. It's solid, as a woman in a BMW found when she ran into the back of me. Her front was demolished, my car showed not a trace of the impact.
I'm not pushing Mazda here. Buy a Toyota, a Nissan, a Honda or a Suzuki. Buy anything, as long as it's Japanese. Enough with the fancy European models, unless you are short of a bottle of wine or two at Christmas and then it will guarantee you a freebie from that nice man at the garage.