Step aside, Suzi Quattro. The jumpsuit gets a classy makeover.
The all-in-one jumpsuit is a versatile outfit. However, going to the loo can be tricky and elasticated waistbands in clingy fabrics can emphasise unflattering bulges in places that should't have bulges.
As designers looked to re-interpreting the jumpsuit for recent resort collections from Band of Outsiders to Vionnet, the key focus was on the formal black jumpsuit as an appropriate alternative to after-five functions and formal events. The perfect trans-seasonal piece, the jumpsuit has been revisited by several local designers in delicate lace, embellished fabrics and languid silk.
This formal approach to an item of clothing once seen as a failsafe casual, has since evolved into something of a wardrobe staple. It can stand its ground among ball gowns and cocktail dresses, breaking the rules of what evening wear should be thanks, in part, to designers such as Stella McCartney and Phoebe Philo, both of whom have spearheaded a very luxe approach to the humble onesie.
Locally, Carlson's "Mercer" jumpsuit (#4) is the perfect example of this season's most daring jumpsuit option, combining designer Tanya Carlson's impeccably tailored pant with a strapless gathered top half in a contrasting silk fabric. Diane von Furstenberg's wrap jumpsuit option (#1) is another example of the perfectly relaxed jumpsuit that looks just as good with a pair of heels as it does with a pair of brogues. It's an opportunity to explore that high-low approach to dressing, reinforcing a nonchalance that the jumpsuit is synonymous with.
Gallery: Check out our favourite looks: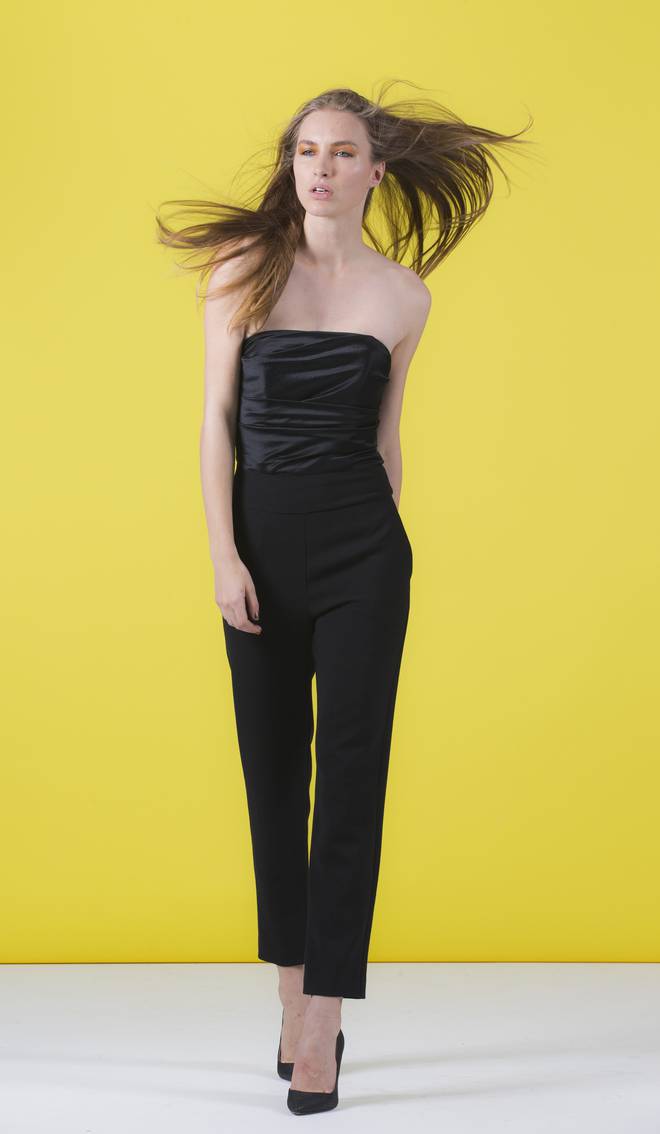 1.
Diane von Furstenberg jumpsuit, $595, from Muse. Mimco heels, $199. Benah for Karen Walker bag, $330.
2. Liam strapless lace jumpsuit, $389, and belt, $80. Skin mules, $200.
3. Liam jumpsuit, $369. Chaos & Harmony loafers, $329.
4. Carlson jumpsuit, $529. Mimco heels, $199.
5. Blak Luxe jumpsuit, $349. Heels, $209.90, from Overland. Ruby straw hat, $89 (available for pre-order).
Stockists
• Blak Luxe
• Carlson
• Chaos & Harmony
• Karen Walker
• Liam
• Mimco
• Muse (09) 520 2911
• Overland
• Ruby
• Skin (09) 368 1981
• Walker & Hall (09) 845 8590
Stylist: Dan Ahwa
Photographer: Greg Bowker
Hair and makeup: Katie Melody-Rogers using M.A.C Cosmetics
Model: Chloe Price from Red 11