A comprehensive survey of buying five essentials at beaches around the world finds the most expensive are in Norway and French Polynesia while the cheapest are in Vietnam.

Online travel specialists, TravelBird, have released their annual Beach Price Index, featuring more than 300 seaside locations from 70 countries around the globe.
TravelBird first examined an extensive catalogue of the world's most popular beaches, before reducing this to a final shortlist of just over 300 locations, ranked on the cost of spending a day at each.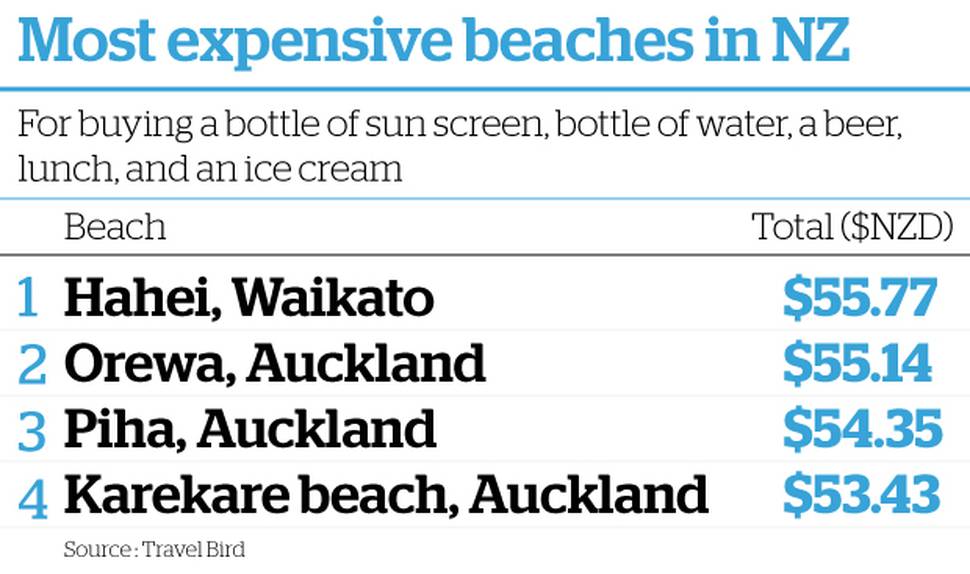 To calculate their affordability, the price of five essentials were then researched for each destination; the cost of a bottle of sun cream (200 ml), a bottle of water (500 ml), a beer (330 ml bottle), lunch (including drink and dessert for one person), and an ice cream.
The sum of these five essentials determined the final affordability ranking of each seaside location. All prices were calculated by standardising the sizes of products, and with monetary transactions true to exchange rates on June 1.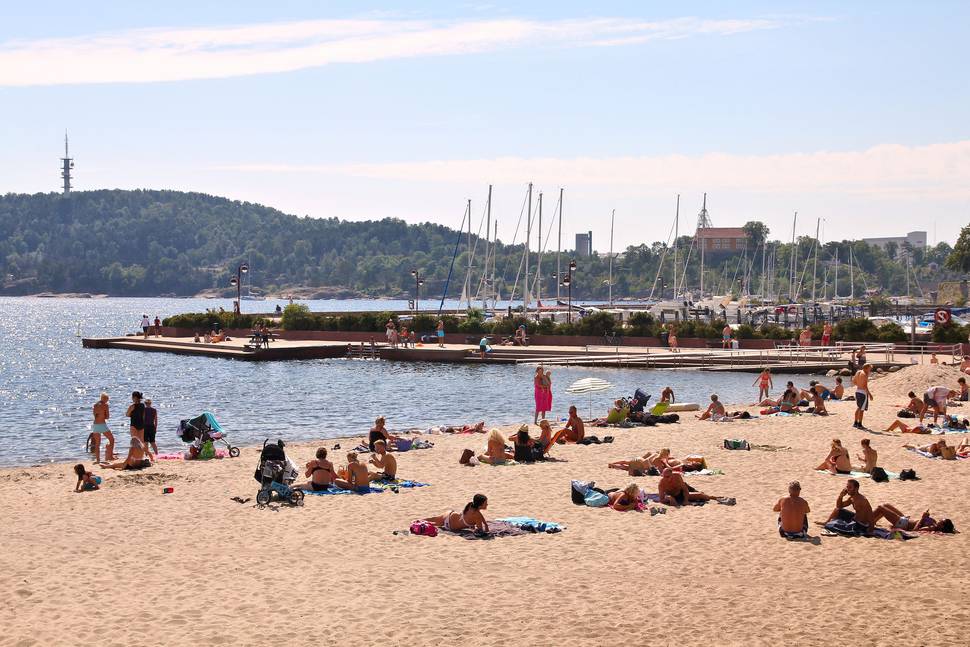 Four New Zealand beaches surveyed came around a third up the list with Hahei at place 91 the most expensive at US$40.45 (NZ$56) for the five items. Karekare ranked 111 at $38.75.
Sun cream is most expensive when bought from beaches in The Seychelles, costing $26.63 for a 200ml bottle. In comparison, Cua Dai Beach in Vietnam has the world's least expensive sun cream, costing just $1.95 per bottle.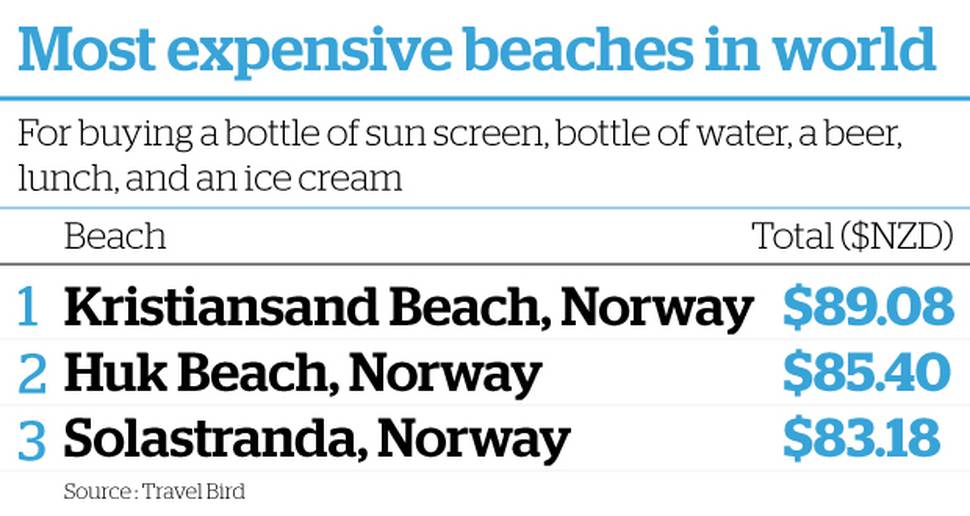 The seaside location with the most expensive bottle of water is Huk Beach in Norway, costing $2.97 for a 500ml bottle. The beach with the least expensive bottle of water is Sunken City in Egypt, where the same sized bottle costs just $0.20.

The beach with the most expensive beer globally is Huk Beach in Norway, where a 33ml bottle costs $8.83. In contrast, Soma Bay in Egypt is the seaside destination with the least expensive beer, available for just $0.63.

Norway's Huk Beach also has the world's most expensive ice creams, at $5.09 each. Egypt's El Gouna is the beach with the least expensive ice creams in the world, costing just $0.52.

West Palm Beach in the American state of Florida has the world's most expensive seaside lunch, costing $28.61 for one person. Egypt's El Gouna is the beach with the most affordable lunches, available for just $5.63.
TravelBird CEO Steven Klooster said currency fluctuations could make a big difference in the actual cost of a holiday.
"For example, beaches in the UK have become almost 10% more affordable for continental European visitors due to the decline of the pound after the Brexit referendum," he said.