World markets fell again last night as the US presidential race continued to tighten.
Wall Street's S&P 500 fell for an eighth straight session on Thursday, its longest losing streak since the 2008 financial crisis.
In New Zealand the NZX-50 was down slightly in morning trading after yesterday's big fall in to correction territory.
The NZX-50 has now dropped more than 10 per cent since its record high on September 7.
It fell more than 1 per cent yesterday.
So how worried should investors be about the Donald Trump risk ahead of next week's election?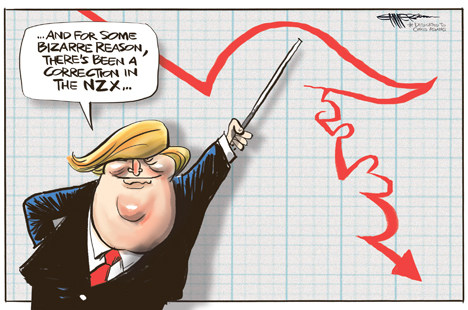 In the short term there is likely is major volatility on markets, say Pie Funds chief executive Mike Taylor.
If we see Trump take out a surprise win then there is likely to be a big fall, although there is also a good chance of a relief rally if Hillary Clinton holds her slim lead.
Longer term though, history showed the "political events do not have a lasting effect on the economy," Taylor said.
Examples like the fall of Hong Kong's Hang Seng index after the Tiananmen Square protests in China in 1989 and, more recently, Brexit in the UK showed big falls immediately after the event followed by steady recoveries.
The issue with markets was that they didn't tend to worry about things until they needed to, Taylor said.
Clinton had been well ahead for much of the year and markets had been relaxed, as the race tightened in the last few days some nervousness was inevitable.
But ultimately the US economy was in pretty good shape and markets would continue to follow its progress.
So the constraints on US presidential power would work in the markets favour.
"No President inherits a blank canvas...the only thing he really controls is the military...which is a worry in itself."