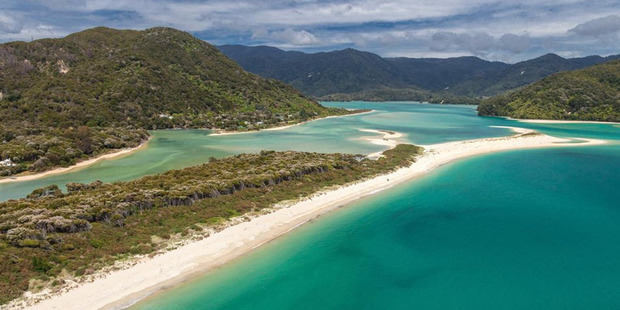 Who would have believed nearly 40,000 New Zealanders would offer to pay personally for a public beach?
Ten years ago, few would have imagined it. Today, nobody is greatly surprised. "Crowdfunding" is just another phenomenon of the internet.
READ MORE:
• Abel Tasman beach: Gareth Morgan's cryptic response to crowdfunding victory
• Abel Tasman beach victory: What happens now?
• Abel Tasman beach: Competition launched to holiday at Awaroa
It has already proven its power to raise extraordinary sums for people who have suffered misfortune or have an expensive health need.
When two interested citizens heard the Awaroa sandspit in Tasman Bay was for sale, they gave themselves a good chance of raising $2 million by this means to add the property to Abel Tasman National Park.
The success of the appeal speaks volumes for the value New Zealanders place on their remote places.
Few of the 40,000 who responded have probably visited Awaroa Inlet or are likely to do so, but they want this sort of coastal property to be in public ownership and they will forever have the satisfaction of knowing their contributions have made it so.
They have effectively forced the Department of Conservation to take over a property its advisers did not think worth the asking price.
In the end, the department has got it for a contribution of $350,000 which, along with an unidentified donor, gave the seller an undisclosed price somewhat more than the $2,278,171 raised by the public appeal. Crowdfunding may never be enough on its own to win an auction since its offer is public knowledge, but with this purchase crowdfunding has proved itself a potent new force in public spending. Its influence will not always be welcomed by those in control of taxpayers' funds.
Causes that attract crowdfunding support are bound to bring political pressure on a Government. When the Awaroa appeal hit the headlines, the Labour Party was quick to say the Government should buy it.
In the end, it seems, the Government made up the difference from its natural heritage fund. The fund was probably already fully committed and some other project may go short now.
The downside of crowdfunding may be that worthy, but not particularly glamorous, priorities are displaced by projects with more popular appeal.
Private philanthropy has always been prone to this problem. Children, particularly sick children, are readily supported by corporate donations and fundraising foundations. Older folk, particularly if addicted or disturbed, are not as appealing to potential sponsors.
Crowdfunding for land will depend on the presentational advantages of the cause. A lonely, pristine, picturesque beach is a proven winner, an estuary of mangroves or a hill of tussock may struggle to attract a glance.
But it does no harm for private fundraising to remind public authorities of popular priorities.
There is a place for public spending that is not at the command of governments, though it ought to be taken into account when governments, local and national, allocate the funds they can control.
Too often organisations that attract private funds expect and receive no less an allocation from public funds.
Crowdfunding, like previous voluntary giving, will never completely displace compulsory taxation, but its ability to reach wider into wells of generosity makes its potential for public projects truly exciting.