Tournament's growth spurt sees sponsorship almost double and ticket income soar.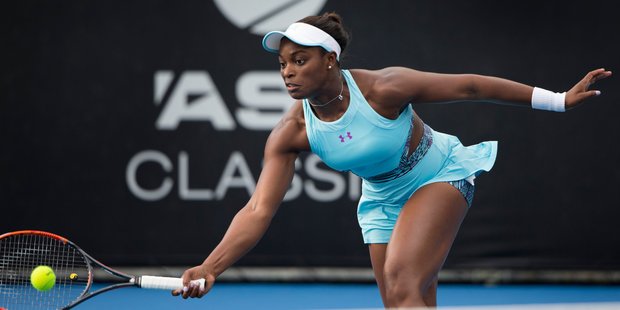 • ASB Classic brought in $1.887 million for the Auckland region
• Sponsorship increased around 180% in the last few years
• Catering increased from $1m in 2013 to an expected $2.5m this year
• 60 per cent of ticket sales done before players announced
As the players scrap it out on court, ASB Classic events director Karl Budge is sitting on a four-year growth streak that has seen sponsorship almost double and ticketing revenue soar.
And with the tournament now collectively under the one banner of the ASB Classic, Budge says next year could be even bigger.
Sponsorship of New Zealand's first major sporting event of the year has always been viewed as a lucrative marketing and advertising opportunity, and it doesn't hurt that international broadcasting rights for the tournament have almost quadrupled in the past few years.
This year had "without question" the best field in both the men's and women's competitions, Budge said.
With the men's tournament in its 60th year and the women's in its 31st, Budge and his team have built up a stable of select sponsorship brands to help pay for a tournament that costs "in the millions - multiples of".
The current sponsorship group had lifted the event's prestige significantly in recent years, he said.
READ MORE:
• 'The ASB Classic is on life support now'
• Tourism in Auckland brought in $6.5b
"In the last couple of years we have turned down a number of sponsorships that we didn't think fit with our family of brands, some very significant six-figure sums that we declined," Budge said. "But we have invested in our brand first and foremost and if we get that right then the rest will take care of itself."
A minimum amount of money was required to be a sponsor and although Budge did not disclose this figure, official sponsor Ateed (Auckland Tourism, Events and Economic Development) confirmed it had contributed $175,000 this year on behalf of Auckland Council - a figure that had doubled since 2012.
Ateed general manager of external relations Steve Armitage said the tournament often beat expectations.
According to Ateed, last year's event generated $1.9 million for Auckland regional GDP, with more than 49,000 attendees and 14,000 visitor nights, against a forecast of $1.26 million, 28,000 attendees and 10,000 visitor nights. Visitors to Auckland have also increased over the years, with Kiwis visiting the city specifically for the tournament growing from 4626 in 2013 to 5830 last year and international visitors increasing from 476 to 530 in the same period.
The tournament's capacity is about 5000 and Budge said most sessions had sold out for the women's week, with about 60 per cent of ticket sales each year being completed before the players had been announced.
Budge did not disclose the amount of ticket revenue but said this had increased significantly since splitting the full-day tennis tickets into two sessions - day and night.
Revenue from the tournament was divided fairly evenly between sponsorship, television, corporate hospitality and ticketing.
Corporate hospitality had sold out within a week of it becoming available this year, he said.
We've had some pretty rapid growth in the last three or four years so we're probably up around 200 per cent on ticket sales since four years ago and from a profit percentage probably a bit higher than that again, so it's been a pretty good few years.
"We've had an amazingly strong four years on the sponsorship side and we're now in a position for the next five years of real financial stability," Budge said.
Main sponsorship partner ASB has in previous years topped up appearance fees to secure particular players, but executive general manager for marketing and communications Roger Beaumont said it had not had to do that this year.
Taking over the naming rights for the men's tournament this year made sense for the company, he said.
"Collectively when you talk about the naming rights fee, you combine the hospitality and entertainment and the leveraging of the sponsorship, it's a reasonably significant amount of money but clearly we feel it's worth it and worth extending that sponsorship to the men's because otherwise we wouldn't be doing it," Beaumont said.
"There is a very big feel-good factor to the tournament which is great for brand association," he said. "I think the time of year is also a big factor in the level of coverage it generates because there's not a lot else going on."
ASB would not disclose the amount spent on its sponsorship but its combined community and sponsorship budget for New Zealand is around $12 million with the ASB Classic "not an insignificant" proportion of its sponsorship figure, Beaumont said.
Budge said catering had brought in a little over $1 million in revenue three years ago, and almost no profit, but was now generating about $2.5 million, of which the tournament received a significant chunk.
ASB Classic (men's and women's) facts & figures:
• Multi-million dollar tournament to put on
• Brought in $1.887 million for the Auckland region in 2015
• ATEED investment of $175,000
• 60 per cent of sales done before players announced
• Corporate hospitality sold out within a week of being on the market
• Ticket sales have doubled in the last four years
• Sponsorship has increased around 180% in the last few years
• Catering increased from $1 million in 2013 to an expected $2.5 million this year
• International broadcasting rights almost quadrupled in the last few years
• Around 140 players in the ASB Classic this year
• Prize money increased around 5% each year
• US$250,000 for women's and US$460,000 to US$470,000 for men's