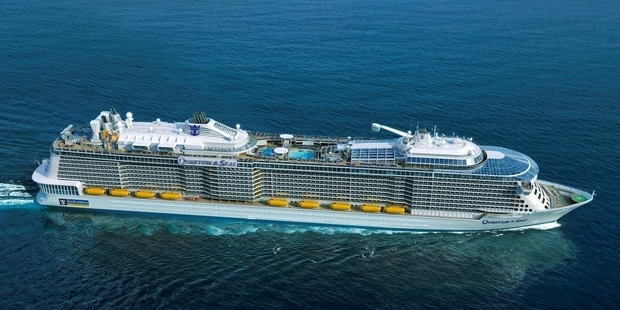 Royal Caribbean boss Richard Fain is blunt about cruise ship economics - the vessels cost too much and the fares are too low.
He's half joking when he says ship prices should be half what they are but he's deadly serious about improving margins in an industry where they can be notoriously thin.
The Miami-based company last week showed off its nearly complete megaship, the $1.15 billion Quantum of the Seas at the Meyer Werft shipyard in Germany and said it would be based in Shanghai to help meet the rapidly growing appetite for travel among increasingly wealthy Chinese.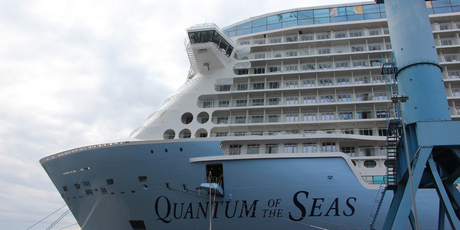 Traditional or mature cruise markets such as the Caribbean have a glut of ships but China doesn't and that's where Royal Caribbean sees its best opportunity.
Royal Caribbean - with a 22-vessel fleet - is the second biggest cruise operator with about 25 per cent of the global market behind Carnival Cruise Lines which has about 50 per cent.
The Chinese are becoming more discerning and are demanding newer, better quality ships.
Some of the oldest ships operated by cruise lines are struggling for business with one travel agent among about 200 media and travel industry players saying passengers are practically paid to take cruises on the most dated vessels.
Cruise ship companies were in a constant cycle of having to produce ships with more "wow factor" with each new generation, accounting for the range of features aboard Quantum, which the company says will offer more internet-smart connectivity than any other cruise ship.
Fain said his company was working to raise prices.
"I'd like to see it next week, I'd like to see it next month."
The Chinese market was willing to pay, said Fain, the chairman and chief executive of Royal Caribbean.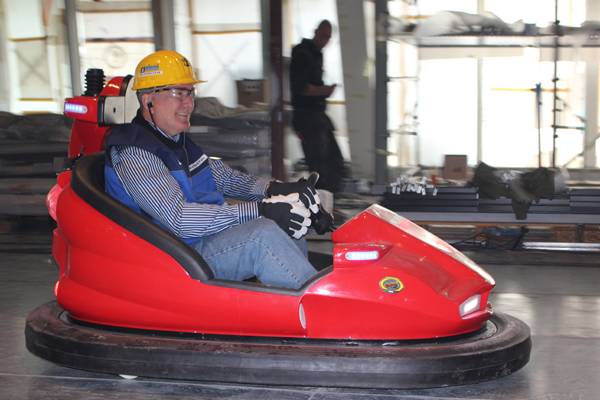 Richard Fain, head of Royal Caribbean, in a bumper car aboard the unfinished ship. Photo / Grant Bradley
"It doesn't take much of a premium to help with returns. If you do build a better vessel they will come," he said.
A study commissioned by the Asia Cruise Association last year predicted that the market in that region would triple over the next seven years. The market would grow from the 1.34 million passengers carried in 2012 to 3.94 million by 2020 with China, the world's fastest-growing outbound-tourism market, making up the bulk of this increase.
Around 22 million people cruised around the world last year.
Latest financial results show Royal Caribbean reported a profit of US$137.7 million ($165 million) on revenue that rose to US$1.98 billion - a margin of around 6.7 per cent.
Although the margin remains tight it was an improvement on the earlier quarter when the industry was hit by bad headlines about ship fires, engine failures and cruises that had to be shortened through outbreaks of illness on board.
Quantum of the Seas will spend the northern winter sailing between New York and the Caribbean before moving to its new home port of Shanghai in the middle of next year.
Fare schedules for Quantum are hitting the market and for a three-night cruise out of Malaysia those in the "grand loft suite with balcony" will pay $1169 per person a night based on double occupancy. Those in interior rooms will pay $356 a night.
Fain said bookings for Quantum were already running strongly.
The ship has 2090 rooms including 375 with "virtual balconies" where images of what's going outside are beamed on to the walls, according to where the room is on the ship.
Fain said this was an example of adding features for which passengers would pay a premium. Others aboard the ship include North Star, a gondola that extends nearly 100m in the air, a skydiving experience and SeaPlex, an indoor space that has bumper cars, basketball courts and rollerskating.
Demand for the ship for regions outside Asia was strong. New Zealand wasn't on the radar at the moment.
"Right now Quantum is dedicated to the China market and New Zealand is a little too far away, but we keep building these ships so who knows what the future brings?"
Workers racing to finish
The sound of vacuum cleaners in dining rooms is a welcome one on board the Quantum of the Seas.
They indicate the 18-month building job is nearing its end, although hundreds of workers are scrambling to finish the 167,800-tonne vessel before it heads to the ocean from a shipyard in Papenburg, northwest Germany.
Just three weeks out from sea trials, the ship resembles a multi-storey building site. Wire and conduit is being worked on in ceiling cavities, grouting and painting is being done, and cardboard lines passageways throughout the 18-level ship.
Royal Caribbean boss Richard Fain has seen the dash to the finish before and is confident the ship will be ready around September 21.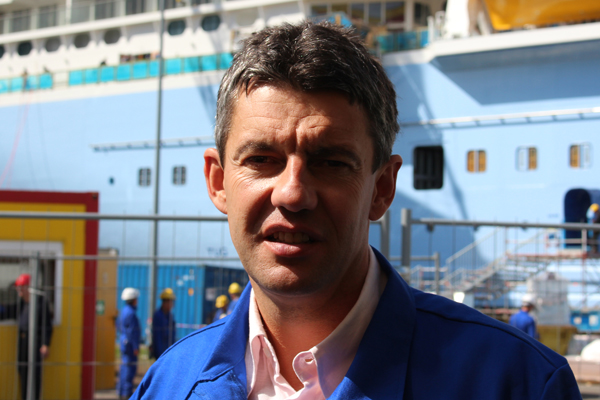 Captain Srecko Ban.
Captain Srecko (Felix) Ban is still hiring and some among the 1500 crew are undergoing safety drills and devising operating procedures.
All staff come from within Royal Caribbean.
Grant Bradley travelled to Papenburg courtesy of Royal Caribbean.