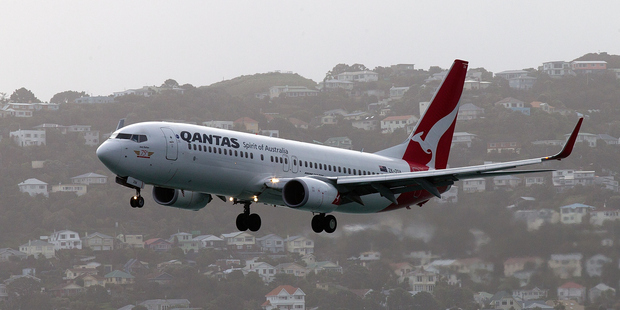 Struggling Australian flag carrier Qantas on Thursday posted a huge annual net loss of A$2.84 billion (NZ$3.17 billion), but chief executive Alan Joyce insisted better days lie ahead.
The worse-then-expected result compared to a wafer-thin profit in the previous year, with one-off restructuring and redundancy costs and writedowns to its fleet hammering the bottom line.
Yesterday, Air New Zealand posted an annual profit of NZ$262 million - a 45 per cent increase on the previous year - and said it will also pay a special dividend to shareholders, costing the airline $100 million.
Qantas' underlying loss before tax in the 12 months to June 30 -- its preferred measure of financial performance which excludes one-off costs and writedowns -- was A$646 million.
Analysts had been expecting a net loss of up to A$1.0 billion as the carrier also battles high fuel costs and fierce competition from subsidised rivals.
Qantas in February announced it was axing 5,000 jobs, deferring aircraft deliveries and freezing growth at Asian offshoot Jetstar, and Joyce said the worst was now behind the airline.
Read also:
• Air NZ shares hit 2-month high on profit growth
• Clear blue skies seen for Air NZ
• Editorial: Air NZ flying high but must heed flak on regional fares
• End of an era as 747's number is up
"There is no doubt today's numbers are confronting, but they represent the year that is past," he said.
"We have now come through the worst. With our accelerated Qantas Transformation programme we are already emerging as a leaner, more focused and more sustainable Qantas Group.
"There is a clear and significant easing of both international and domestic capacity growth, which will stabilise the revenue environment," he added.
"We expect a rapid improvement in the group's financial performance -- and a return to underlying profit before tax in the first half of FY15, subject to factors outside our control."
The airline's international arm continued to underperform, booking a loss of A$497 million compared to A$246 million in the 2013 financial year, with high fuel prices and foreign exchange movements blamed.
Domestic operations turned a A$30 million profit - but this was substantially lower than the previous year, while its discount carrier Jetstar was A$116 million in the red.
Qantas, whose main domestic rival Virgin Australia is majority-owned by state-backed Singapore Airlines, Air New Zealand and Etihad, has regularly complained that the 1992 Qantas Sales Act restricts its access to capital.
The act caps foreign ownership at 49 percent and in July the government agreed to relax the restrictions.
While the 49 percent cap remains, the change means a single foreign investor or foreign airline can boost their holding to a maximum 49 percent from 25 percent previously.
Joyce said that as a result Qantas had decided to create a new holding structure and corporate entity for its international division, effectively separating it from the domestic arm - allowing it to increase the potential for future investment.
"This will have no impact on the day-to-day operations, network or staffing at Qantas International," he said, adding that despite the bleak numbers the airline's transformation would soon start paying dividends.
"Our cash balance and liquidity position is strong, and the group's overall financial performance is rapidly improving," he said. "We are removing costs to drive earnings growth. And the work we've done over recent years to renew our fleet and improve service has been recognised with a string of awards and record customer satisfaction.
"Standing still while the world changes around us is not an option," he added.
"With our structural review complete, we can move forward with certainty."
Jetstar loses ground in NZ as Qantas plunges
Jetstar, the discount unit of Australian airline Qantas Airways, lost ground in New Zealand, while claiming better yields on key routes, as its parent plunged into the red after slashing the value of its international fleet.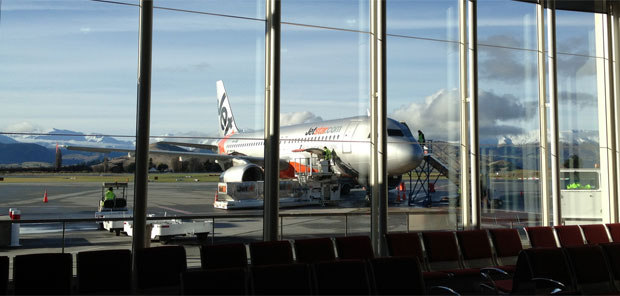 A Jetstar plane gets ready to depart from Queenstown airport. Photo / Chris Gorman
The discount airline had 20.7 percent of New Zealand's domestic market at June 30, down from 22.4 percent a year earlier, Qantas said today when releasing its annual result. Passenger numbers dropped 7.7 percent to 1.72 million and revenue passenger kilometres fell 6.2 percent to 1.13 million. Capacity shrank 4.5 percent to 1.42 million available seat kilometres.
The airline's unit said it had a strong and improving second-half performance across key metrics leading into the 2015 financial year, and had "strong yield improvement on key routes," according to presentation slides accompanying the release.
Qantas didn't break out any financial figures for the domestic New Zealand service, which are part of the wider Jetstar segment. The Australian discount airline reported a loss before interest and tax of A$116 million in the 12 months ended June 30, on a 2 percent fall in revenue to A$3.22 billion.
The Australian group made a loss of A$2.84 billion as it wrote down the value of its international fleet by A$2.56 billion, faced fleet restructuring costs of A$394 million and redundancy and restructuring costs of A$428 million. The underlying pretax loss was A$646 million compared to a profit of A$186 million in 2013.
The Australian airline's fortunes contrast with those of trans-Tasman rival Air New Zealand, which yesterday reported its third year of profit growth and doubled its annual return to shareholders with an unexpected special dividend.
Qantas chief executive Alan Joyce said the airline has gone through the worst as it overhauls its business and anticipates "rapid improvement in the group's financial performance in financial year 2015."
The airline sees "substantial value" in the Jetstar airlines that will be realised over time, particularly from Asian markets, though it won't embark on any new ventures until its transformation programme is completed, he said.
Qantas split its international and domestic businesses into separate segments, which Joyce said creates potential for future investment in the international business.
"It will create the long-term option for Qantas International to participate in partnership opportunities in the international aviation market, with a view to achieving further efficiencies and improved returns to shareholders," he said.
Shares of Qantas fell 1.8 percent to A$1.295 on the ASX yesterday, and have gained 18 percent this year.
- AFP, BusinessDesk