National carrier's profit jump comes with 10c special dividend as many other airlines in region are struggling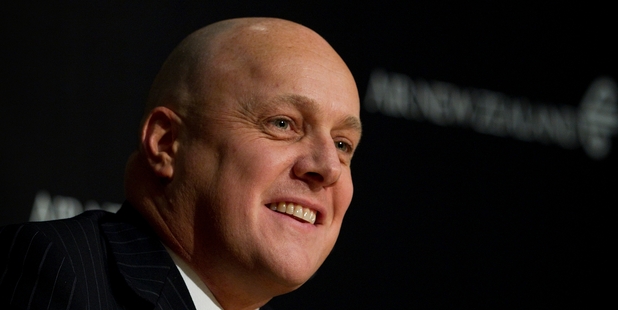 Air New Zealand celebrated its third consecutive year of strong earnings yesterday by declaring a special 10c per share dividend and painting a positive outlook for the year ahead.
The company, which is 53 per cent owned by the Government, said its statutory net profit rose by 44.75 per cent to $262 million for the June year.
Operating revenue, capacity and yields grew across its network, while unit costs remained stable, the company said.
Air NZ's result comes as many other airlines in the region are struggling. Across the Tasman, Qantas and Virgin Australia are expected to lodge big losses when they report later this week.
Chief executive Christopher Luxon said the airline had been able to post a strong profit by being able to redeploy aircraft to more profitable routes and by "getting more people flying".
"To actually get sales growing at 3 per cent, to be able to have very stable unit costs, that's a combination that has really sprung and expanded the profitability," Luxon said.
The airline is in the midst of taking delivery of new planes and will be spending $2.2 billion on new aircraft over the next four years.
Luxon said the company's focus had been on "fixing" the airline's international network by creating and building demand.
"We don't want to be a supply-driven airline, where we just buy aircraft and then figure out where to send them. We actually want to be demand-driven," he said.
The airline had stopped flights out of Beijing, London and Hong Kong and had been able to redeploy them to places that offered higher margins.
He said the special dividend would cost the company $110 million but it would remain within its targeted debt/equity ratio of 42.9 per cent.
In addition to the special dividend, the company declared a final ordinary dividend of 5.5c a share, taking the total ordinary dividend for the year to 10c, up 25 per cent.
The Government last year sold 221 million shares in Air New Zealand at $1.65 each, raising $365 million, and reducing its stake in the company from 73 per cent to 53 per cent. The airline's shares closed yesterday at $2.175, up 2.5c.
Chairman Tony Carter said the board expected another strong year ahead. "With new aircraft offering better operating economics, an optimised network with the right alliance partners, disciplined cost management and a daily focus on improving the customer experience, we are very well positioned to continue growing," Carter said.
Rob Mercer, head of private wealth research at Forsyth Barr, said it was a good result but that the company faced challenges. "There are other areas that they will have to work through, such as managing that lift in capacity," Mercer said.
- APNZ