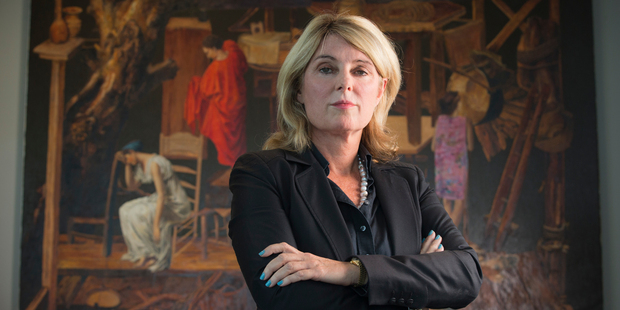 How could they get it so wrong?
Contrary to what the Fairfax-owned Christchurch Press newspaper, the Stuff website, TV3 and a legal blog erroneously claimed last week, the Law Society has not criticised - nor is it furious with or "gunning" for - Justice Minister Judith Collins over the naming of Sir Robert Chambers Lane in Christchurch's new justice precinct.
Elderly lawyer Gerald Ross Lascelles - peeved that the lane was not named after some local lunchtime legend - was seen to capitalise on Canterbury's one-eyed parochialism for an excuse to attack Ms Collins - even before Nicky Hager wielded his hot poker.
The Press dutifully rallied to the parochial cause by claiming the Law Society was critical of Ms Collin's decision.
But on this occasion the Law Society - neither at national nor local level - was not critical of anyone, had made no comment at all and was not even mentioned by Mr Lascelles.
It got worse when John Bowie's Lawfuel blog copied The Press story and claimed the Law Society was "gunning" for Ms Collins.
TV3 climbed in by stating specifically that the Canterbury-Westland branch of the New Zealand Law Society had described Ms Collins' decision as "ill-conceived."
The branch never said that: "ill-conceived" was a term used by one lawyer.
The Fairfax-owned Stuff website this week still carried the headline: "Law Society furious with Judith Collins."
All this was untrue, and seen by some as further evidence of a wilful smear campaign against Ms Collins.
NZ Law Society Canterbury-Westland branch manager Malcolm Ellis says the society was in no way involved in the comments made by Mr Lascelles in a branch publication a couple of weeks ago and media reports that it was are completely wrong.
As Justice Minister Collins says: "Sir Robert Chambers was a Supreme Court judge who was respected as one of the most powerful intellects in the New Zealand legal system and it is fitting for his legacy to be honoured."
Ms Collins says Sir Robert's widow, leading divorce lawyer Lady Deborah Chambers QC, attended the launch of the plans for the multimillion dollar justice precinct and appreciates her late husband's legacy is to be remembered in the naming of the lane.
CaseLoad reckons if Christchurch lawyers had so little to do with Justice Chambers when he served on both the Court of Appeal and Supreme Court, then perhaps they should have been taking on more intellectually challenging cases.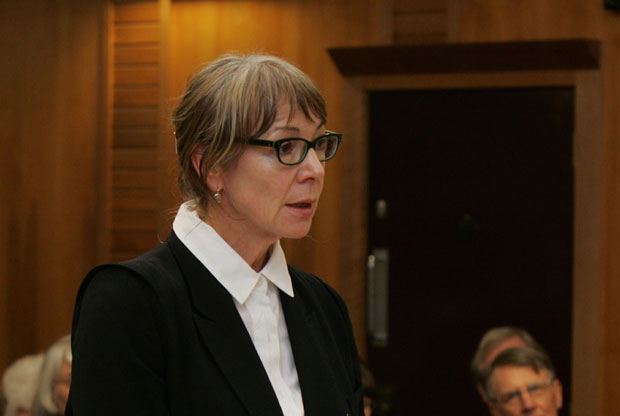 Cheryl Gwyn. Photo / APN
Meanwhile, Prime TV's breathless political editor Barry Soper confused some folk the other night when telling how the Inspector General of Intelligence and Security is to investigate the SIS's handling of an official information request from Whale Oil blogger Cameron Slater.
Without referring to the person by name, Mr Soper (who should know the difference by now) was twice heard to use the word "he" when referring to the Inspector-General - a position held since April by former deputy solicitor general, Young Socialist and meat worker Cheryl Gwyn. [See CaseLoad 24/4/14]
Shark And Taties With His Honour
CaseLoad became aware only the other day that his old crony and former High Court judge Sir Alan Douglas "Dutchie" Holland had died at 84, such was His Honour's wish there by no fuss.
Sir Alan - who decreed there be no official fuss over his passing - is variously described in tributes as having faults and foibles, being a fearless stirrer who loved a fight, and a formidable advocate.
Admired by court reporters for his often harsh one-liners and no sufferer of fools, he cut a swathe through a bumptious and unwary Christchurch bar.
Christchurch Queen's Counsel Peter Whiteside says the judge did not have an outstanding intellect but was "blessed with a sound knowledge of the law and good judgment."
Mr Whiteside says that towards the end of his judicial career, and because of his efficiency drive, Sir Alan could be "very impatient with lawyers and too hasty to judgment."
CaseLoad recalls when Sir Alan, after a particularly unpleasant and sexist run-in with lawyer Trish Costigan (who later became a district court judge), was obliged to apologise for his sharp tongue.
Once confronted by previously good neighbours who had sunk to feuding over leaves falling from each others trees, Sir Alan kicked them out of court to settle their differences, make up and not waste court time.
On another occasion, before he became a judge, he acted for parties involved in what was a devious livestock investment Ponzi-style fraud.
When he and his clients piled out of a darkened limo to front a gathering of angry investors in Christchurch, CaseLoad was there with his camera.
One of the allegedly guilty parties was so incensed, he tried to strangle CaseLoad with the camera strap.
Thankfully "Dutchie" was there to pull his bloke off before things got terminal.
Often on a Friday evening when life was simpler, CaseLoad (beery of breath) and The Dutchman (in the wake of a gin tsunami) would patronise the same Papanui fish and chip shop, after both having imbibed more than enough to drive home.
Much later, and after he retired, Sir Alan - who reckoned knighthoods should automatically accompany higher court annointment - always had a comment for CaseLoad on legal matters of the day.
For more details see the Obituaries List at www.lawsociety.org.nz
The Doctor, The Judge And Genitalia Size
Former district court judge, Ombudsman and Governor General Sir Anand "Satch" Satyanand had some nice things to say at a recent Criminal Bar Association (CBA) dinner in honour of distinguished barristers Peter Williams QC and Michael Harte.
Pleasantries aside Sir Anand told a wee yarn about a previous CBA shindig, addressed by the eccentric doctor and commentator Erich Geiringer.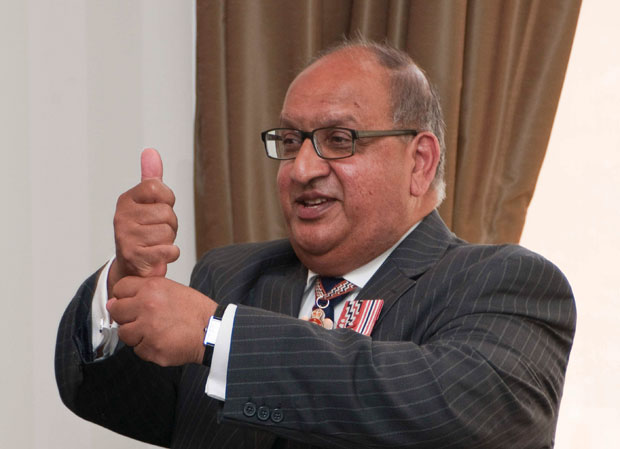 Sir Anand "Satch" Satyanand. Photo / NZPA - David Alexander
It seems that in the course of his speech, the eccentricity and exuberance took hold of Dr Geiringer and he was in the middle of a passage talking about the relative size of people's genitalia - which had everyone looking intently at their shoes - when a hand went up.
In the pin-drop silence district court judge Avinash Deobhakta asked if he could ask a question.
Judge Deobhakta told Dr Geiringer he was not sure what he would be talking about, but now that he knew, could he have permission to leave.
When Dr Geiringer said Yes, the judge walked out, accompanied by about two thirds of the audience...
"That yarn had them rolling in the aisles," said Our Man At The Bar from ringside.
[The full text of Sir Anand's entertaining speech was not available this week on the CBA website, but it may appear later].
Guess Who This Lawyer Is
Identified only as "Practitioner Y" a female lawyer's name remains suppressed by the Court of Appeal, despite winning a case to restore her reputation.
Aided by Queen's Counsel Helen Cull, the lawyer succeeded in convincing the Court of Appeal to overturn an order requiring her to personally pay $20,000 indemnity costs, plus a further $1,500 legal costs.
Justices Ellen France, Tony Randerson and Rhys Harrison rejected Justice Ron Young's High Court finding that Practitioner Y had mislead the court, abused process and was incompetent.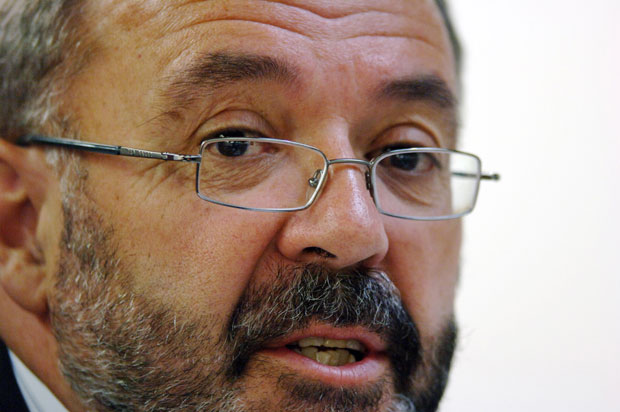 Justice Ron Young. Photo / NZPA
The original case saw a Mr William Taueki challenge funding for a Treaty of Waitangi claim and involved Crown Forestry Rental Trustees Angela Foulkes, John Wilson, Maanu Paul, Sir Eddie Durie, Rakihia Tau and the Muaupoko Tribal Authority.
It appeared to be not a very strong case which quickly ran into several hurdles.
Practitioner Y's pleading to the High Court on Mr Tuaeki's behalf were in a "sorry state" and there was "some confusion in her submissions about the exact nature of the case."
Justice Young, frustrated by Practitioner Y's conduct, awarded indemnity costs against her, finding her incompetent, misleading and her pursuit of the litigation an abuse of process.
The Court of Appeal disagreed, saying - among other things - it would have been proper and fair to Practitioner Y for Justice Young to have had an oral hearing of his own volition - despite none of the parties asking for one.
By failing to accord her an oral hearing Justice Young breached proper process.
The Court of Appeal said there was lack of logic and coherence in the way Practitioner Y presented her case, as well as some ambiguity and possibly carelessness.
But there was no evidence she intentionally mislead the court or made reckless statements to frustrate the proceedings or cause the other side unnecessary cost or delay.
Nor did her conduct amount to a serious dereliction of duty or to gross negligence to warrant an indemnity costs order.
Having won her appeal and got shot of Justice Young's grave findings - plus winning costs against the other side - it might have been a good idea, in the interests of open justice and avoidance of rumour, for the Court of Appeal to also let the public in on who she is.
Next Time
Ladies & Escorts Lounge liquor accounts "hacked"...Gruesome details exposed...