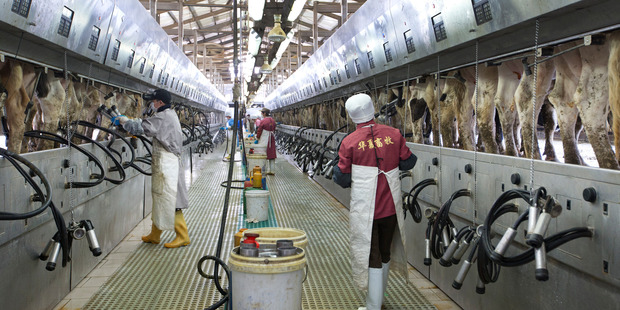 Fonterra and American pharmaceuticals and health care giant Abbott have announced a strategic alliance to develop a new $342 million dairy farm hub in China.
Fonterra and Abbott said they would invest a combined US$300 million into the hub, which will contain up to five dairy farms and more than 16,000 dairy milking cattle in production, producing up to 160 million litres of milk a year.
The deal, which is subject to regulatory approval, will leverage Fonterra's expertise in dairy nutrition and farming in China and Abbott's commitment to development in China.
Chicago-based Abbott is a big player in China's infant formula and nutrition market. In June, the company opened a nutritional manufacturing facility in Jiaxing and two research and development centres in Shanghai earlier in the year.
Dairy consumption in China has been rising steadily over the past 10 years and the continued development of safe, high-quality milk sources was needed to meet growing demand, the parties said in joint statement.
The new hub would be Fonterra's third in China and would complement its existing farming operations in Shanxi and Hebei Provinces, Fonterra chief executive, Theo Spierings, said.
"Farming hubs are a key part of our strategy to be a more integrated dairy business in Greater China, contribute to the growth and development of the local Chinese dairy industry and help meet local consumers' needs for safe, nutritious dairy products," he said.
The herd for the new hub would comprise animals either imported, or sourced from Fonterra's existing farm hubs. All dairy cattle will have genetics traceable to New Zealand, Australia, the United States or Europe, Fonterra said.
Fonterra is the world's largest global milk processor and dairy exporter. Pending regulatory approval, the first farm is expected to be completed and producing milk in the first half of 2017. The remaining farms will start production in 2018.
Fonterra and Abbott's announcement coincided with the release of a report from Rabobank which said Fonterra and other big players on the international dairy market would need to buy or tie up with more companies to maintain strong growth.
The agricultural lending specialist Rabobank said 2013 had been challenging one for most of the world's big players and that mergers and acquisitions had become an attractive route to growth and profitability. In 2013, there were 124 dairy transactions, up from 111 in 2012 and the highest since 2007, Rabobank said.
- APNZ