Dairy drop and high dollar put pressure on farmers and Reserve Bank policy: economists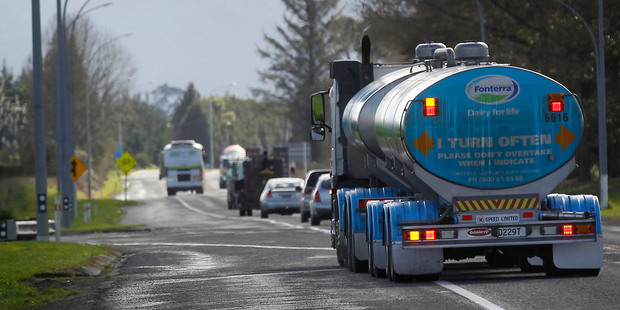 Fonterra's $7 per kg farmgate milk price forecast for 2014/15 is once again under significant downward pressure because of ongoing falls in international dairy prices and a stubbornly high New Zealand dollar, say economists.
They said the kiwi's inability to adjust lower in line with weaker commodities prices could have implications for the price farmers get for their milk and for the Reserve Bank's future monetary policy stance.
News of a 4.9 per cent decline in average dairy prices at the GlobalDairyTrade auction barely put a dent in the New Zealand dollar, which yesterday traded at US87.6c - not far off its post float high of US$88.4c - as overseas investors chose to focus on the relatively high interest rates the currency has to offer.
Dairy prices have fallen by 31 per cent since February.
ANZ yesterday downgraded its forecast farmgate milk price to $6.25/kg of milksolids compared with Fonterra's $7/kg forecast issued in May. The bank estimated the fall represented an approximate $3 billion worth of dairy income from the record 2013/14 season.
ANZ's rural economist Con Williams said the New Zealand dollar was continuing to ignore the downward pressure on commodities prices, with markets choosing instead to focus on New Zealand's relatively high interest rates, and the prospect of them moving higher still.
"But definitely the cracks are starting to emerge, so we would expect some softness to show through in the currency," Williams said.
While dairy production is expected to increase again in 2014/15, farmers' costs have also risen.
"Mechanically putting a milk price of $6.25/kg into our average farm model yields profitability of $1180/ha. This is below the seven-year average of $1485/h," the bank said.
"With interest rates rising and approximately 65 per cent of debt on short term, combined with a drop in the milk price into the low $6s/kg, this quickly starts to see discretionary spending evaporate." Dairy prices are now tracking marginally lower and the NZ dollar higher than the Reserve Bank assumed in its June monetary policy statement.
The combination was not material enough to warrant a change of view regarding monetary policy and the official cash rate, and a rise in July still looked odds on, the bank said.
"However, the situation across various commodity markets is unfolding quickly, and with the NZ dollar barely budging, financial conditions are tightening in material fashion," it said.
Bank of NZ economists said lower prices would be negative for dairy farmer payout calculations and would, over time, put a dent in New Zealand's terms of trade and current account figures.
The BNZ said the Reserve Bank will be watching closely the divergence between falling dairy prices and the still strong New Zealand dollar.
Last month the Reserve Bank raised the official cash rate to 3.25 per cent and signalled more rises ahead.
The decline in whole milk powder prices came despite Fonterra reducing the volume to be auctioned over the coming months.
ANZ's Williams said it looked like the international wholesale market was reflecting an overhang of product inventory in China.
The dairy auction registered a 4.9 per cent decline in average prices to US$3595 a tonne. Whole milk powder - the most important line for New Zealand producers - dropped 5.4 per cent to US$3459 a tonne.
Fonterra was expected to issue its revised forecasts in August but may instead use this month's dividend announcement to update farmers on the farmgate milk price outlook.
Dairy drop
• Average GDT price falls by 4.9 per cent since last auction.
• Whole milk price index down 5.4 per cent at US$3.459/tonne.
• Prices now 31% lower than in February (US dollar terms).
• Pressure mounts on Fonterra's $7.00 per kg farmgate forecast.
• ANZ expects $6.25 kg for 2014/15.
• Fall represents $3 billion decline in dairy incomes versus record 2013/14 season.