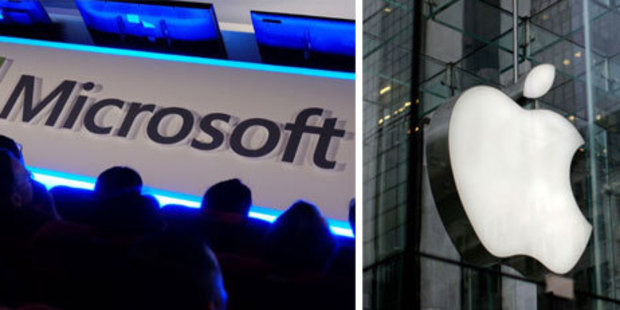 China's state-run media has stepped up criticism of US technology companies including Apple and Microsoft as tensions escalate over cyberspying and hacking allegations.
Apple, Microsoft, Google and Facebook cooperated in a secret US program to monitor China, said a commentary on the microblog of the People's Daily newspaper.
China Central Television, the national broadcaster, said a provincial government was told not to buy computers with Microsoft's Windows 8, and it quoted a professor calling the software a potential threat to China's information security.
The rhetoric comes after China said it would vet technology companies and the Central Government Procurement Center excluded Windows 8 from a purchase of energy-efficient computers. Those moves followed indictments by US prosecutors of five Chinese military officers for allegedly hacking into the computers of American companies, and former contractor Edward Snowden's revelations of a National Security Agency spying program.
"The threat and risk is very serious for American companies right now," said Shaun Rein, managing director for China Market Research Group in Shanghai.
"State-owned enterprises are going to choose Chinese hardware companies over the foreign ones. I don't view this as a short-term blip."
That may mean American companies lose out on a growing market. Information technology budgets for Chinese companies are expected to increase 13 per cent this year, compared to the global average of 0.2 per cent, according to a study released in May by Gartner.
Chief information officers in China "reveal a higher business focus on growth and innovation than their global counterparts, and strong budget increases to support it," the report said.
The NSA's monitoring effort, known as Prism, shows the US government to be an "information thief," according to the commentary on People.cn, an Internet platform built by People's Daily. China should strengthen its punishments for stealing information, yesterday's microblog post said.
The Prism project traces its roots to warrantless domestic-surveillance efforts under former President George W. Bush. Apple, Microsoft, Facebook and Google said previously they received thousands of warrants for data from US government entities.
Apple has never worked with the NSA to create a back door in any of its products, including the iPhone, Kitty Potter, a Beijing-based spokeswoman for the company, said on Thursday.
"Additionally, we have been unaware of this alleged NSA program targeting our products," Potter said by phone. "We will continue to use our resources to stay ahead of malicious hackers and defend our customers from security attacks, regardless of who is behind them."
Read also:
• China pushes banks to remove IBM servers
• A guide to allegations of China cyberspying
• Mundane ruses fooled US hacking victims
Taj Meadows, a spokesman for Google, referred to an earlier statement from the company saying the US government doesn't have access to Google servers.
Joanna Li, a Beijing-based spokeswoman for Microsoft, didn't immediately respond to an emailed request for comment. Charlene Chian, a Singapore-based spokeswoman for Facebook, couldn't immediately be reached by phone.
China's government took a separate step against Microsoft by telling officials in Jiangsu province, south of Shanghai, to cancel purchases of computers running Windows 8, CCTV reported. The deal was scrapped in February after the central government issued a notice, the report said, citing Jiang Huazhong, director of the Jiangsu government's purchasing centre.
"The security features of Windows 8 are basically to the benefit of Microsoft, allowing them control of the users' data, and that poses a big challenge to the national strategy for information security," Yang Min, a computer-science professor at Fudan University in Shanghai, told CCTV.
Watch: China military men charged with US cyber-spying


Microsoft, the world's largest software maker, said it's committed to retaining the trust of its customers worldwide in response to the Windows 8 contract in Jiangsu.
"Our Government Security Program allows governments to review our source code to confirm there are no back doors," Kathy Roeder, a spokeswoman for Redmond, Washington-based Microsoft, said in an email. "Customers around the world have evaluated and embraced Windows 8 as our most secure operating system."
Microsoft said last month it was "surprised" to learn of the central government's decision not to include Windows-run computers in its purchase of energy-efficient machines. The official Xinhua News Agency called that decision "a move to ensure computer security."
Beijing's municipal government has complained that Windows 8 costs too much, and several local governments have dropped the operating system in favor of locally developed alternatives, CCTV reported on Wednesday, according to a clip on its website.
- Bloomberg