Economists say fall in currency will offset dairy price drop and both still at high level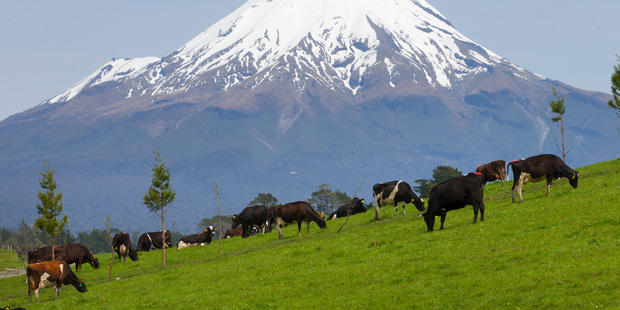 Weaker dairy prices have acted to drive the New Zealand dollar lower over the last few months, but currency strategists don't expect the kiwi to go into freefall.
The NZ dollar has weakened from over US87c as recently as mid-April to US84c yesterday - a three-month low - mostly reflecting the sharp decline in international dairy prices.
Fonterra last month forecast a $7 per kg farmgate milk price for the 2014/15 season, down from $8.40 last season.
At this week's GlobalDairyTrade auction, whole milk powder - the most important product group for New Zealand dairy farmers - fell by 8.5 per cent to US$3590 a tonne. Both the currency and milk price are still high by historical standards.
The kiwi is shy of its post-float record of US88.4c, set in August 2011, and well above what is regarded as its long-term equilibrium of around US65c, and at $7 the milk price would still be the fourth highest on record.
Those pinning their hopes on a weaker New Zealand dollar have been waiting a long time. At the start of the year, the prevailing theory was that the US economy would pick up, which would help revive the US dollar, which would in turn put small upstart currencies in their place.
When the US economy failed to follow the script, the kiwi remained elevated until a series of very weak dairy auctions put the skids under the currency.
Paul Bloxham, HSBC's chief economist for Australia and New Zealand, said a decline in the kiwi was a good sign as it would help to offset the impact of lower product prices.
"You can think of it as a good sign and I'm sure the Reserve Bank will be somewhat comforted by the fall because the currency had ... been high in the face of falling dairy prices," he said.
Despite its losses to date, Bloxham said he expected the currency to remain "structurally high", relative to history.
"Even though it's been down a bit recently, we're still of the view dairy prices will stay at very high levels and that's going to maintain a high New Zealand dollar."
BNZ senior market strategist Kymberly Martin said the fall in dairy prices was a sign of more commodity weakness to come.
"The decline in dairy prices is the most visual aspect of what we think will be a broader decline in New Zealand commodities prices across the board," she said.
"Obviously we're starting from very elevated levels - New Zealand's terms of trade are at a 40-year high, so we're certainly not talking about a collapse."
BNZ expects the currency to fall to US79c by year's end.
While the US dollar had shown signs of life since May, it wasn't conforming to the generally held belief that it would strongly reassert itself in line with better prospects for the world's biggest economy.
ASB economists said the market would pay more attention to dairy price movements after Reserve Bank Governor Graeme Wheeler's May 7 speech that highlighted dairy's importance for the economy and explicitly linked the kiwi to dairy prices.
Wheeler said the bank considered that the exchange rate was overvalued and it did not believe the level - then at around US86.75c - was sustainable.
"Our exchange rate could be expected to weaken if one or more of the following occurs: the US economy continues to improve; global dairy prices continue to come off their recent highs; China's growth slows; financial market volatility begins to rise; or there is a global 'risk off' event such as a correction in global equity prices."
So far, only one of Wheeler's ifs - weaker dairy prices - has come to pass.

Weaker dollar
• Exporters: Most international trade is conducted in US dollars, so exporters gain in times of currency weakness because their export earnings convert into more Kiwi dollars.
• Importers: Makes the price of imports more expensive as importers have to pay more NZ dollars for foreign currency to buy imports.
- APNZ