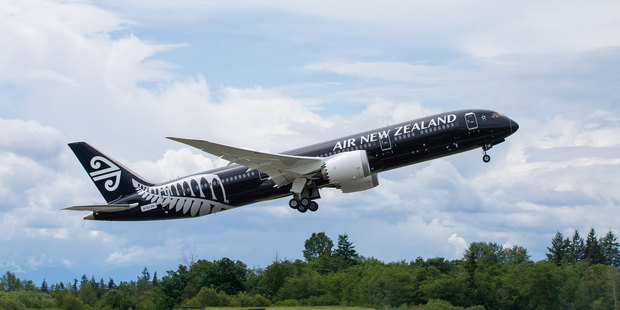 Air New Zealand's first Boeing 787-9 has flown for the first time, completing a three-hour test flight above Seattle, in Washington state.
The aircraft, is in the final phases of the delivery process before being formally handed over to the airline.
Air New Zealand is the launch customer for the Boeing 787-9 and has 10 of thestretch versions of the 787 on order.
In the first test flight two pilots put the aircraft through its paces testing its systems and cabin performance.
The aircraft, in the airline's distinctive black livery, departed from Paine Field airport north of Seattle at 1.45pm local time. It reached an altitude of 11,800m (39,000 feet) and an airspeed of 360 knots and landed three hours and ten minutes later.
Air New Zealand will initially use them on routes to Perth, China and Japan.
The airline will fit its planes with 302 seats with 18 lie-flat seats in the business premier cabin, 21 new design seats in premium economy and 263 in the two economy cabins. The list price is about $300 million for the 787-9, which is 20 per cent more fuel efficient than older similar-sized planes.