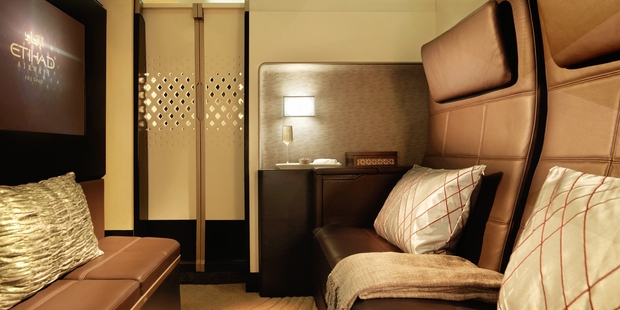 More airlines are getting rid of their first-class service with only a few carriers able to sustain top-end cabins, says a report.
While Etihad and Emirates are planning new levels of luxury with mini-suites and Singapore Airlines is upgrading the front of its planes, analysts say they are running counter to the trend.
Watch: Luxury A380 - Etihad 'The Residence'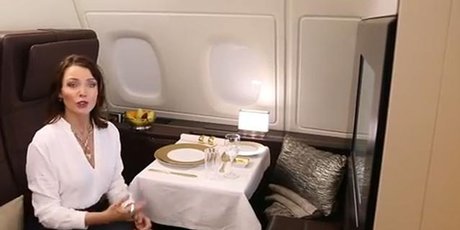 Etihad's three-room suite with a living room, bedroom, bathroom and shower complete with a butler will reportedly cost close to $25,000 for a single, long-haul journey.
But American Airlines has followed Brazil's TAM Airlines in getting rid of its first-class seats in favour of upgraded business-class cabins.
According to CAPA Centre for Aviation, Lufthansa is also removing first class from several long-haul planes.
"Airlines have cannibalised their first class with business-class seats that become lie-flat. At the same time, first class is increasingly off-limits for all but the top echelons of executives (or the wealthy leisure travellers, although they look more for discounts, and frequent flyer redemptions, which give a low yield)," the report says.
Qatar Airway says it will remove most first-class seats from its fleet and reserve them for its Airbus A380 as ultra-premium travel demand shrinks.
The airline is working on a new "super business class" that it will introduce within the next two years, chief executive Akbar Al Baker said this month.
"I don't think there will be a return to first-class travel," Al Baker said. "The chunk of our premium occupation is business travel."
Air New Zealand opted to get rid of first class almost a decade ago.
Keith Sumner, director of corporate travel specialists Gilpin Travel, said there was little demand for first-class seats among business people.
"It would be a bad look. In a business environment I couldn't imagine anyone wanting a first class seat."
Sumner said there was some demand from older, wealthy leisure travellers.
International Air Transport Association figures show the number of passengers in premium seats on international markets rose at 1.9 per cent, down on February's rise of 4.1 per cent.
CAPA figures show London to New York has the most first-class seats, with 159 on average daily followed by London-Dubai with 121 seats daily.