Queenstown's mini-terminal for private aircraft makes it easier for the wealthy to drop in for holiday fun.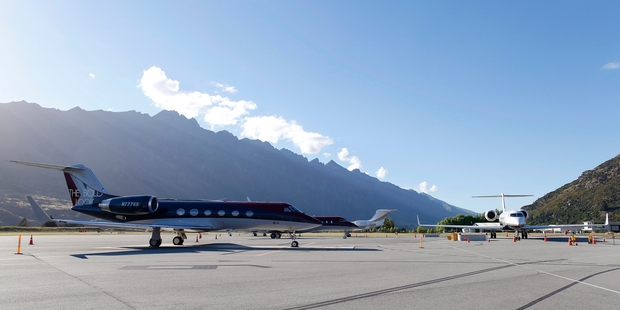 A new mini-terminal has been opened in Queenstown to handle an increase in the number of private jets coming to the resort town.
In March, 24 private jets touched down in Queenstown as the total number of flights to New Zealand doubled to 34 compared with the same month last year.
The superwealthy and companies are using these planes again after a downturn spurred by the global financial crisis.
Auckland-based Air Center One is developing the Queenstown terminal with Capital Jet Services. It is next to the airport's international baggage claim area by the commercial carpark.
Air Center One chief executive Rob Leach said the corporate jet market was booming, and flights were arriving from Europe, Russia, the United States and Asia.
He went to a conference of private plane operators in Tampa, Florida, last month and the mood was buoyant.
"The general feeling is that people are happy, they're flying more and companies that were reluctant to fly aren't any more."
Wealthy people were looking for different places to holiday and enjoyed the relaxed atmosphere in New Zealand.
"Rather than go to a five-star lodge they want to see something a little bit different," Leach said. "They've all been to a five-star lodge around the world.
"There are a lot of high net worth individuals who have been to the Mediterranean and other places and they're looking for a place to go that is safe and a little bit different, has a good environment and a stable government with the amenities that can look after their superyachts and private planes.
"You're going to find the growth in that in the next couple of years is going to be quite substantial."
Queenstown Corporate Jet Services had been developed to cater for those who flew to Auckland for business and then wanted to holiday in the south.
They usually wanted to use their own planes rather than scheduled commercial services.
"Not that they're a cut above anyone else, but it's a lot more fun to get off their corporate jet rather than get in line with a lot of backpackers - it's a different market and we're catering for that."
Leach said New Zealand was short of top-end private planes to lease to people who take commercial flights to New Zealand.
"In the next two years we're going to have some more equipment to cope with this."
He had not noticed any spin-off from a Tourism New Zealand push on luxury visitors.
"We've had some dealings with government departments but we've done it off our own bat."
Finance Minister Bill English opened the Queenstown terminal on Friday.
Queenstown Airport Corporation chief executive Scott Paterson said the new terminal was a first step in enhancing the airport's premium facilities.
"While this is an interim solution for the next three years pending the resolution of our land acquisition plans, it's a big step forward in enhancing our corporate passenger experience and positioning Queenstown as a key New Zealand gateway for premium visitors."