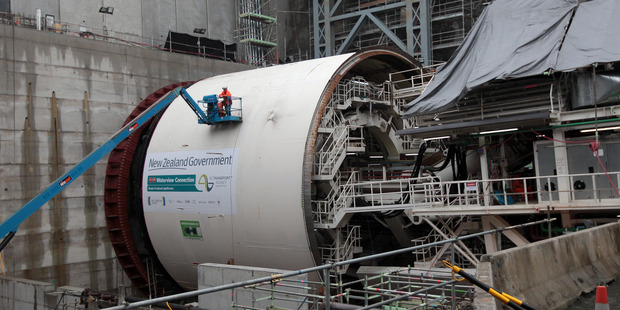 Alice the tunnel-boring machine sometimes seems to work at its own pace. It was making 16m of progress per day on Auckland's Waterview Connection at the start of April but on April 3 it sped up to burrow 20m.
Just over 600m of tunnel had been created by the second week of this month.
Rory Bishop, construction manager of McConnell Dowell Constructors, which is part of the Well-Connected Alliance, said the mechanised mega-mole's speed underground depended on many different factors.
"Maybe a cable has to be changed, the ground is harder in some parts and softer elsewhere, or else the teeth on the tunnel borer need to be changed," he said.
McConnell Dowell has a $400 million share of Waterview, in the consortium with the NZ Transport Agency, Fletcher Construction, Parsons Brinckerhoff, Beca Infrastructure, Tonkin and Taylor, and Obayashi Corp of Japan.
McConnell Dowell has up to 90 people at the Well-Connected offices and a further 150 field staff working on NZ's biggest civil engineering job.
Around 800,000cu m of spoil from Waterview - equivalent to 100,000 truck-loads - is being trucked to the disused Wiri Quarry in South Auckland, which is being landfilled.
Gwyn Jones, McConnell Dowell's Melbourne-based tunnel and underground project manager, said Alice was fast compared to the far smaller tunnel-boring machine which built the new Singapore Downtown Line 2 MRT where he worked.
Progress on that A$3.6 billion 16km long 6.6m diameter train tunnel was around only 140m/month in extremely hard conditions but even in soft conditions, only 250m/month, Jones said.
He addressed the Australasian Tunnelling Society's New Zealand branch on the Singapore job early this month, describing the techniques involved and how that huge project was carried out. Alice had built 250m of tunnel by early February, as part of the journey to create twin 2.4km-long tunnels, both 13.1m in diameter, in about two years to connect Auckland's Southwestern and Northwestern motorways as part of the city's Western Ring Route.
Bishop said Alice was no danger to workers "because there are no people between the machinery and the wall it's cutting because there's a completely enclosed bulkhead behind the cutting head. The rotating cutting head is itself in a closed chamber. If there are any safety issues, those are more around aspects like handling the precast tunnel linings but we have restrictions on who can be in those areas. We use vacuums to lift the concrete, so we spread the lifting force across the load."
Mechanised tunnelling equipment created a far safer worker environment than the old methods, he said.
McConnell Dowell - separate from and not part of McConnell Group which owns Hawkins Construction although they had the same original co-founder, the late Buck McConnell - has built many big tunnels in the past few years. Bishop said those included Auckland's Hobson Bay tunnel and the Rosedale, Christchurch and Dunedin ocean outfall tunnels.
"But unlike structural engineers, we often don't get to show off our work to the public," he said of the big waste water infrastructure jobs. "Most of it is hidden from people."
Melbourne-based McConnell Dowell intends to tender for the Central Rail Link and Wayne Donnelly, NZ chief operating officer, said the biggest challenge of that project was Auckland Council securing funding, followed by keeping the city moving while such a huge tunnelling job was carried out.
"It's constructing in a city where people live and work and you have to keep the traffic flowing."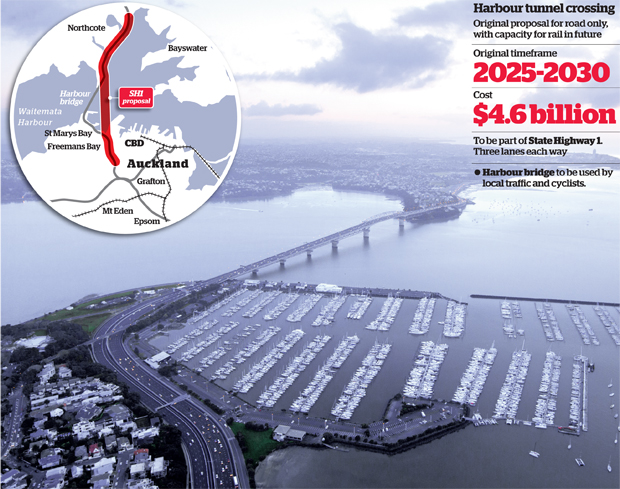 State-of-the-art factory plays pre cast role for tunnel
The pre-cast concrete factory in East Tamaki employs 70 people.
Alice's tunnel wall linings are being made in an East Tamaki factory, turning out the segments as the tunnel boring machine makes her way under Auckland.
Tommy Parker, NZ Transport Agency highway manager, said the factory was making more than 24,000 concrete segments to line the motorway tunnels for the Waterview Connection.
Around 70 people are working in the new 6000sq m factory, the most modern pre-cast concrete manufacturing facility in Australasia, Parker said.
"It is an entirely new facility, built by a partnership between the tunnel project's Well-Connected Alliance and Auckland company Wilson Tunnelling and equipped with some of the most up-to-date concrete batching and moulding equipment in the world," Parker said.
The tunnel linings are 14m-diameter rings, each 2m wide and comprising 10 segments.
Nine of those segments will weigh 10.5 tonnes while the 10th will be a smaller key segment that locks the ring together, Parker said.
Production of the individual segments for each ring began last August.
Inside the tunnels, they will be installed by Alice as she bores her way underground, Parker said.