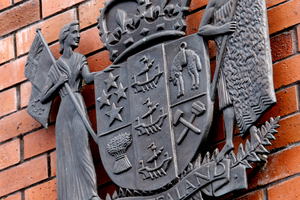 A now-bankrupt developer who duped a family into buying properties from his company will spend Easter in jail after an urgent attempt for a second appeal against his sentence failed this morning.
Glenn Cooper bought properties at mortgagee sales and sold them to buyers who were under pressure to consolidate debt, the Serious Fraud Office said when the developer admitted five dishonesty charges in January last year.
Cooper, now in his early 40s, used false sale-and-purchase agreements to conceal the fact that the properties were actually owned by companies associated with him. He also forged signatures on the agreements and added false details to loan applications.
Cooper was sentenced to 19 months jail by a Manukau District Court judge last November and ordered to pay $25,000 in reparations.
But Cooper's lawyer, Tudor Clee, appealed that sentence instantly and the mortgage fraudster was out on bail while this was heard.
The appeal was heard last Monday in the High Court at Auckland, where Clee sought home detention for his client.
Justice Sarah Katz dismissed it yesterday afternoon and said the sentencing judge was correct to identify that denunciation and deterrence are important factors in Cooper's type of offending.
"Particularly where the victims are vulnerable and commercially naive members of the public who were effectively conned into becoming involved in purchasing properties, at inflated prices, that they simply could not afford," she said.
In yet another attempt to keep his client from going to jail, this morning Clee made an urgent application for leave to go to the Court of Appeal for a second appeal on the sentencing.
He said the question of law that needed to be tested was whether in the circumstances of Cooper's case was imprisonment the least restrictive sentencing outcome.
Clee also said that while the Court of Appeal had given District Court judges directions for sentencing in relation to benefit fraud, this did not exist for mortgage fraud cases.
Todd Simmonds, representing the Serious Fraud Office, opposed Clee's application this morning.
Justice Katz dismissed the application in an oral judgement shortly before midday and said there no basis for her to grant leave for a second appeal.
She said Clee had not raised an arguable question of law.
"Whether imprisonment was the least restrictive sentencing outcome in this case is obviously a matter of vital personal importance to Mr Cooper. However it cannot be elevated to being a matter of general or public importance," Justice Katz said.
The judge was not persuaded by Clee's argument on the need for mortgage fraud guidelines from the Court of Appeal.
While Clee foreshadowed he would seek special leave to appeal directly from the Court of Appeal, Justice Katz did not grant Cooper bail pending that application.
As per the judge's order yesterday, Cooper was required to surrender himself to the registrar of the High Court for transfer to prison at midday today.