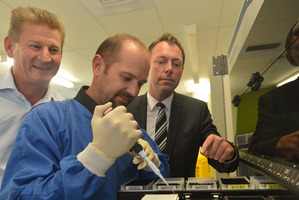 Pacific Edge shares slumped to a five-month low and Xero plunged again as as the local stock market joined a global sell-off amid concerns high-growth companies may struggle to convert sales into profits.
Shares in the Dunedin-based bladder cancer text developer fell as much as 15 per cent to $1.04, the lowest since Oct. 23, and were recently down 6.6 per cent to $1.14. The shares have dropped 25 per cent in the past month.
Xero, whose shares soared 325 per cent last year, fell as low as $29.80 and recently traded down 9.1 per cent at $30.10. The stock soared after the Wellington-based company raised $180 million in October, selling 9.92 million shares at $18.15 apiece, but has come in for some sharp selling in the past month, dropping 31 per cent.
Xero is rated a 'sell' by two analysts and a 'buy' by a third, with a median price target of $36, according to Reuters data. Pacific Edge does not have analyst coverage yet, said Goodson.
Stocks on Wall Street sank yesterday, with the tech-heavy Nasdaq Composite Index recording its biggest daily decline since November 2011. Investors have been selling stocks in growth-orientated internet and biotech firms in recent months, cashing in gains from last year. The NZX 50 Index, which is the first major benchmark index to reopen after the US market closes, slid 1.1 per cent led by growth stocks.
"It's a continuation of the Nasdaq sell down," said Matthew Goodson, executive director at Salt Funds Management which holds Pacific Edge stock. "It's sentiment - fear and greed and the balance between the two as opposed to the fundamentals."

"We actually think Pacific Edge is travelling pretty well, it's just a question of the valuation you put on it," Goodson said. "Unlike the Xeros of this world it doesn't actually have any analyst coverage, so some of its movements tend to be dominated by retail investors in a bit of an information vacuum" and global jitters.
Diligent Board Member Services, the governance app developer, fell 1.2 per cent at $4.15, and has declined 11 per cent in the past month.
Outside the benchmark index other tech stocks declined. SLI Systems, the search engine developer, slipped 1 per cent to $2.03, Wynyard Group, the security software firm, sank 5.2 per cent to $2.37 and GeoOp, the small business task management app maker, fell 3.3 per cent to $1.45.
Salt Funds' Goodson said the recent declines made some growth stocks more attractive, though that wasn't true of all of them.
"One or two are reaching more buyable levels although you still need an awful lot of future delivery and one or two of them are still very expensive on any future growth expectations," he said.