Warriors co-owner says public claims from partner about departure of coach left him baffled and surprised.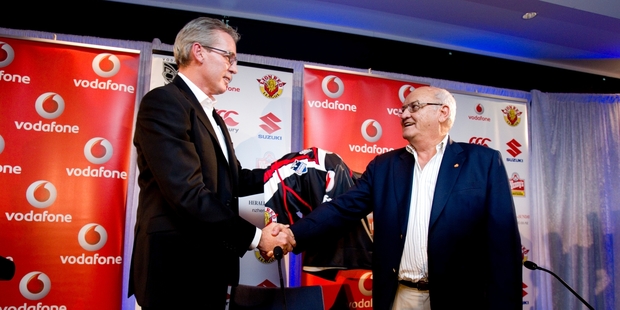 Eric Watson says he will walk away from the Warriors if the club's fans tell him to go.
After a day of claim and counterclaim between Mr Watson, fellow co-owner Sir Owen Glenn and chairman Bill Wavish yesterday, Mr Watson told the Herald: "The real shareholders, the real stakeholders are the fans.
"If you don't have the fans you've got nothing. They see what's going on ... and they are able to make their own decisions.
"If I believe the New Zealand fans believe I'm not the right owner and the club should have another owner, I would be prepared to do that.
"But that's not the message I'm getting ... people know through my actions I'm here for the long haul."
Sir Owen and Mr Watson have been locked in a war of words following the sacking of coach Matt Elliott after the side's 37-6 defeat to the Sharks at the weekend.
Mr Watson said he was baffled by statements Sir Owen made about Elliott's departure, which he said he had no idea about.
"I can't get inside his mind. This has caught me and everyone else by surprise. Why would you do this?"
Mr Watson dismissed a claim by Sir Owen that he (Mr Watson) had asked for $15 million to sell his 50 per cent stake of the club, and that he had offered Sir Owen only $1 million for his half. Sir Owen paid $6.15 million for the stake in 2012.
"It's like his [Sir Owen's] statement that 'I've had no involvement, the board doesn't communicate with me and no one asks me anything'. The very same man sent several instructions to that very board asking specifically not to be involved."
Despite the public wrangle, Mr Watson said they had a cordial meeting in Auckland eight weeks ago.
Sir Owen told the Herald on Wednesday: "I feel like an outsider to the club. Why keep money in it if you're not getting anything out of it?
"I'm not talking about dividends, I've never received a cent."
He couldn't be reached for further comment last night.
Mr Wavish said Sir Owen needed to sell his stake for the Warriors to move on from the mess at present engulfing the club.
Elliott has put out a statement saying he agreed to the Warriors' press release that said he "resigned" and that he held no bitterness towards the club. "For what it's worth, I really believe [replacement coach] Andrew McFadden is more than ready and has what it takes to lead."