Glen Raymond has worked at Auckland's biggest gigs for 25 years and now owns Opel Security. His family and staff worked at the speedway World Series at Western Springs on Saturday.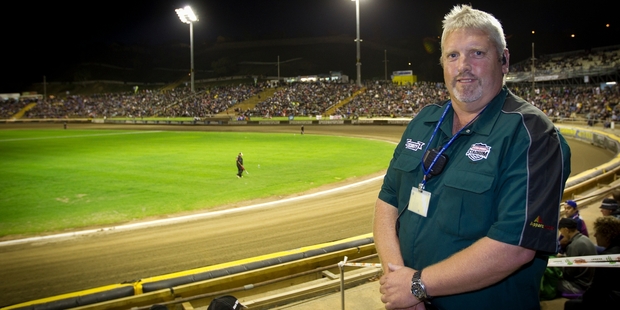 1. What was your first gig at Western Springs?
On the perimeter fence for U2 in 1989. My girlfriend Samantha was in the naval reserves and she and her friends did security stuff part-time. We were in our 20s and the work was good - we started on the fences and ended up working the front barriers up by the stage. We've done the last three tours of U2, did AC/DC, Guns 'n Roses, Eric Clapton, Pantera - that crowd was pretty wild; it was at the Town Hall. Ben Harper was one of the easiest gigs because he was so laid back. He'd been in town at a record signing and some people missed out on autographs, so after the show he stayed out for hours signing stuff and talking to people.
2. What's been the most fun?
We went away with [Motley Crue's] Tommy Lee for a week when he was on tour in New Zealand and that was wicked. To be honest, he didn't get up to much. Nah, no girls that we saw. He went out for dinner and that, a bit of drinking. We were there to keep the crowd back and give him a bit of freedom.
There were just two of us on security but he was really well behaved.
3. Did you make a lot of money in the early days?
Nah, it's never been well paid. You have to amass a lot of hours to make money. Samantha and I set up a security company in 1995 and we were working at Western Springs. It's hard work but we enjoy it. We had 11 bars we worked for at one stage but that was terrible. The managers would let people come back in after they'd been thrown out for fights. No one wants to pay security - it's the first to get the chop and the first to get the blame when it goes wrong.
4. Does it go wrong very often?
No, not really. It's the big one-off concerts that are most difficult. They pour in the gates and pour out. I've never punched anyone or kicked anyone and I've never been punched or beaten. I've thrown people out, though. You get them in a wristlock or outnumber them. Do I get vomited on? No, never. I hold them in a wedge and as soon as they start throwing up, I let them go. It did get hairy once at a car event at Meremere. There were a lot of boy racers there and about seven of us got surrounded. They were chanting, "Do the security." We basically had to just form a line and push our way out through them, then we regrouped from there. It was a bit touch-and-go.
5. What's a speedway crowd like?
They're easy. They're passionate about their sport. Often you'll get four generations turning up for the night and a lot bring a picnic basket. We'd be lucky to throw three or four people out a season. Oh, there'll be a few drunk people tonight [for the start of the world grand prix series]. There's a lot of Aussies here for it.
6. Who's harder to deal with - a drunk man or a drunk woman?
A drunk woman. A lot of the time the security guys don't want to handle [the women]. But once they're drunk you just classify them as a drunk person, and make sure everything's done as safely as you can. Women cause as much trouble as guys. And sometimes they're bloody strong. We did the Louis Vuitton ball many years ago and all the ladies turned up dressed as ladies and by the end of it they weren't as ladylike as you'd expect.
7. Do you worry about your kids working in the business?
No, they've grown up in the industry. Kayla is 21 and Kurtis is 19 and they both work for me. They're no fools, either. My mum was here tonight on tickets - she's just left - and my cousin's working and my uncle. There's all different jobs to do. My kids would work every day of the week if they could. I've always told them: nothing comes for nothing. My boy's an apprentice auto electrician. He's been driving a broom in the shop since he was 14. You've got to get your kids into jobs early.
8. Where did you grow up?
Drury. I still live in Manukau. My dad had a chicken farm which we all worked on and he had trucks too and we'd work on those as well. I never did an OE. I look at what people in the same age group as me did and, well, I wouldn't say I'm comfortable but I'm happy. I've got a few things. I've got a cousin who did an OE and everything but I settled down quicker than he did.
9. You've been married for 24 years - that's half your life. Is it what you expected?
We've got a good life, Samantha and I. We'll never be filthy rich but we just mosey along. We're really busy in the summer, then we'll have a quiet winter. We go to Fiji or 4x4ing in the South Island. There's not a lot of pressure on us in winter. There's a bit of stress in summer. The worst time is just before you open the gates.
10. What's the oddest job you've done?
We had to shut down a brothel that was in full flight. The receiver hadn't paid the rent. It was a pretty flash establishment in the city. There were three of us who went - it didn't take any arm-twisting to get the guys along. They volunteered the minute I said what it was. The ladies thought we were there as customers. The funny thing is the guys weren't worried. One chap came down and ordered another drink. He said he hadn't finished so we just said, "Take your time, mate."
11. Security guards get a pretty bad rap, don't they? Is that deserved?
People sometimes expect us to know everything. And some security guards go a little bit further than they should. But it should be about customer service first. The old days are long gone now - there could be more argy bargy then when you threw people out. It's different now. It has a lot to do with the music. Eminem, well, I won't say too much but I don't like that kind of music. Music can incite behaviour. You wouldn't get the same feeling at a Neil Diamond concert.
12. Where's the best-behaved crowd in Auckland, do you think?
Pasifika would be the best. It's hard to play up when your aunties and uncles are all there.